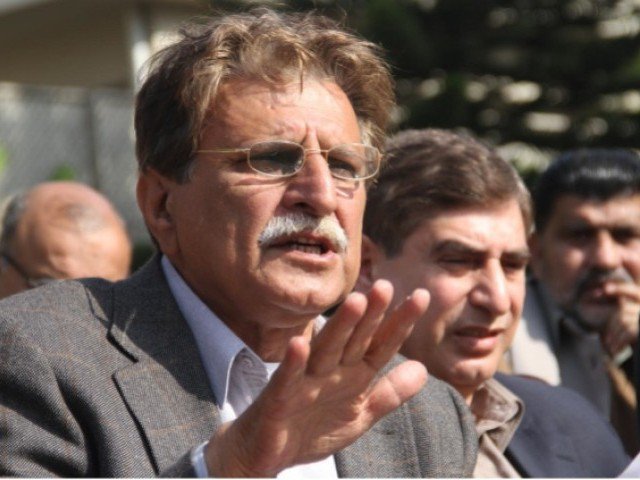 ---
MUZAFFARABAD: Prime Minister of Azad Jammu and Kashmir (AJK), Raja Muhammad Farooq Haider Khan has said that reforms in the education sector have brought tangible improvement in the educational governance in the liberated area.

Addressing various public gatherings during his visit to Jhelum Valley on Sunday, he said the introduction of National Testing Service (NTS) System in education has significantly reduced political intervention in postings, promotions and recruitment of teachers.

"With the introduction of NTS, now poor and rich, influential and powerless will be judged and treated with same standard and yardstick," claimed Haider.

He also said that after education, reforms in the health sector and rural development are second priority of his government. The prime minister disclosed that the government is actively working on a project to provide clean drinking water to the entire rural population of Azad Kashmir.

AJK PM to expand cabinet to avert likely no-trust motion against him

Moreover, Prime Minister Haider said he has great respect for party workers and vowed that workers especially the youth will be accommodated in the upcoming local bodies' elections. He also expressed his resolve to improve the conditions of rural roads to ensure swift movement of rural people. Earlier in an interview with a state-run TV channel the AJK prime minister Farooq Haider Khan expressed grave concern over the deteriorating situation in Indian Occupied Kashmir.

He observed that Indian troops are killing innocent Kashmiris in fake encounters and targeting youth with pellet guns and other lethal weapons.

The PM stressed that these repressive measures cannot break the spirit of the Kashmiri people and their legitimate struggle for self-determination. He appealed to the international community and human rights organisations to take serious notice of the massive human rights violations at the hands of Indian soldiers.

Published in The Express Tribune, May 7th, 2018.