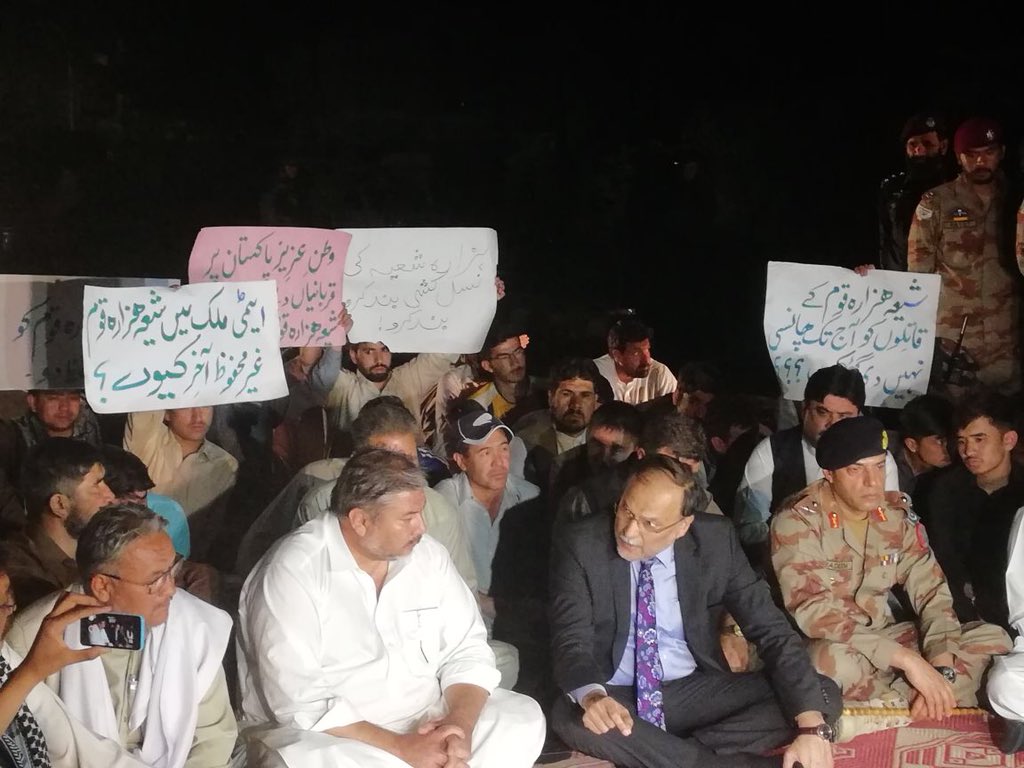 ---
Interior Minister Ahsan Iqbal on Monday assured the Hazara community of security and said law enforcement agencies have been directed to apprehend culprits behind the recent attacks on the Hazara community.

Iqbal visited a sit-in staged on Zarghoon Road near the Balochistan Assembly in Quetta by Minister for Law Syed Agha Raza along with his supporters. Expressing solidarity with the community, Iqbal said federal and provincial government and LEAs had taken measures to eliminate militants and their facilitators.


Visited Quetta to express solidarity with Hazara community over killing of two Hazara men by terrorists. In last five years, the situation has much improved with killings dropping from 215 in 2014 to 8. Our efforts will continue to bring it to zero IA. pic.twitter.com/3xl0yiEIld

— Ahsan Iqbal (@betterpakistan) April 30, 2018


During the visit, Iqbal also reviewed the security situation with Inspector-General Balochistan Moazzam Jah Ansari and Inspector-General Frontier Corps Major General Nadeem Anjum and met with the families of martyred policemen.


Reviewed security situation with IG Balochistan and IG Frontier Corp and also met with families of Shaheed Policemen in Quetta to recognise their sacrifice and to inquire well being of their families. pic.twitter.com/uO6CggR0Rl

— Ahsan Iqbal (@betterpakistan) April 30, 2018


Taking to micro-blogging site Twitter, the federal minister claimed security situation had improved in the last five years as killings dropped "from 215 in 2014 to 8".

Two Hazara men shot dead in Quetta attack

The Hazara community members staged demonstrations at three separate locations of the city. They are demanding protection from law enforcement agencies and have requested the Chief of Army Staff General Qamar Javed Bajwa to visit Quetta.

Balochistan National Party-Mengal (BNP-M) also organised a sit-in, headed by former MNA Syed Nasir Ali Shah, outside the Quetta Press Club. Civil rights activist Advocate Jalila Haider along with other Hazara community members set up a hunger strike camp outside the press club. The Hazara Democratic Party (HDP) also blocked Bacha Khan road to protest against the government and law enforcement agencies.

Hazaras protest against 'targeted killings' of community members

Raza called off his sit-in on the assurance of Chief Minister Balochistan Abdul Quddus Bizenjo and Minister for Home and Tribal Affairs Sarfraz Bugti that the provincial government would do its utmost in eradicating sectarian violence.