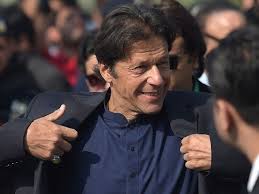 ---
LAHORE: A large number of people, including women and youth participated in the Pakistan Tehreek-e-Insaf (PTI) gathering at the Minar-e-Pakistan on Sunday.

Many youngsters were seen going to the venue on motorcycles from different parts of the city. Talking to The Express Tribune, Shahbaz, a resident of Johar Town, said that he was going to the PTI rally to see Imran Khan speak. "He is a true leader and I am going there to support his cause," he said, adding that he was eager to hear the Kaptan's plan for the upcoming general elections.

Dozens of youth could be seen in different areas wearing caps of the PTI as well as holding flags of the party. Another group of youngsters, on the Canal Road, were of the view that youth was the real strength of the PTI. Amir Ali, one of the youngsters, said that he had registered himself as a member of the party and he was going to the venue to support his party. "I am a college student and I don't see a future for myself after studies. Only true change can save this country and the future of many youths like myself," he said. The group said that they would rendezvous with their friends and then head for the event.

Many such scenes could be seen in different parts of the city at around noon. Apart from the residents of the city, many youngsters from other parts of the country, especially adjacent areas also came for the PTI gathering in caravans. Muhammad Ali, a resident of Sheikhpura, was one such youth who came to see the PTI gathering with his friends. He said that he was not a member of the party, however, he was interested in seeing the Jalsa and what Imran Khan had to say.

The PTI also expected a large number of women to participate in the gathering. For this, a separate area was designated for the female supporters of the party at the venue of the gathering. A supporter of the party, Mehwish, enthusiastically waited in a queue to get into the venue. She said that she only came to see Imran Khan. "I am a big fan of Khan and I came here to support his cause," she said. She was also wearing a PTI cap and had her face painted with the party flag. "I came here prepared," she said pointing to snacks and water bottles.

Another party supporter, Tayyaba, also shared the same sentiments. She said that she believed that Pakistan had only a single honest politician. She said that Imran Khan had struggled all his life to bring change to Pakistan and she wanted to support his cause. "I have convinced my whole family to vote for Khan," she added.

Published in The Express Tribune, April 30th, 2018.