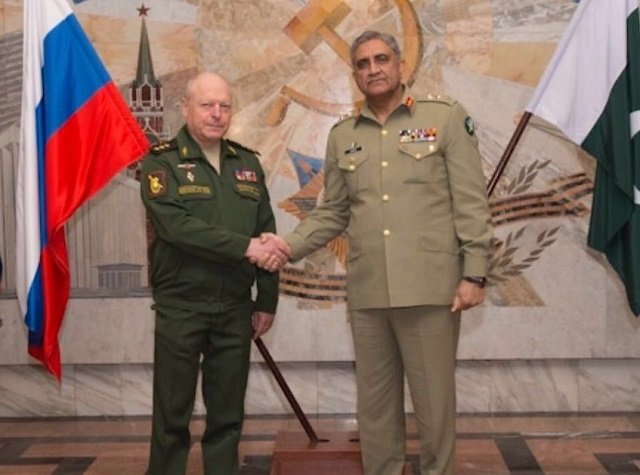 ---
ISLAMABAD: Russia on Tuesday said Pakistan is a 'geo-strategically important' country and "it is keen to expand its existing military-to-military cooperation" in a significant development at a time when Islamabad's relationship with Washington continues to deteriorate.

The Russian offer to expand defence and security ties with Pakistan came during Army Chief General Qamar Javed Bajwa's visit to Moscow.

Gen Bajwa held talks with Colonel General Oleg Salyukov, Commander Russian Federation Ground Forces, at Kremlin Palace.

"Upon arrival the COAS was presented guard of honour who laid wreath at the Tomb of unknown soldier. National anthems of both countries were played," said a handout issued by the military's media wing here.

The notable outcome of the meeting was the acknowledgement by the top Russian military commander for Pakistan's achievement in the fight against terrorism and contribution for regional peace and stability.

This was in contrast to the US' position which since Trump came to the White House has repeatedly accused Pakistan for not doing enough.

While Washington appears to have down played Pakistan's critical role, Russia thinks otherwise.

"Pakistan is a geo-strategically important country and Russia is keen to expand its existing bilateral military to military cooperation," the Russian Ground Forces Commander said.

Gen Bajwa thanked General Oleg and said that Pakistan reciprocates desire of enhanced bilateral military engagements.

He said that Russia had recently played a positive role to help resolve complex situations in the region.

He said Pakistan will continue to play its part in keeping conflicts away from the region and "seek approaches which bring regional convergences into play rather than the divergences".

The visit of the army chief was the latest in a series of high-level exchanges between the former Cold War rivals

In February, Foreign Minister Khawaja Asif visited Moscow to garner Russia's support after Trump pressurised Pakistan to do more.

Then the defence minister also visited Moscow. And more recently National Security Adviser Lt-Gen (retd) Nasser Khan Janjua travelled to Russia.

The flurry of visits suggested a new push by Pakistan to diversify its foreign policy options after the US expanded its cooperation and strategic ties with India.



Janjua leads ministerial delegation to Russia

Relations between Pakistan and Russia have seen an unprecedented improvement dring last few years. The two countries, which remained bitter cold-war rivals, have been recalibrating their ties against the backdrop of realignments.

While India, Russia's long-standing strategic partner, has joined the US camp, Moscow is also opening up its options that include reaching out to countries such as Islamabad.

Russia was one of the first countries, which publically expressed its solidarity with Pakistan after President Donald Trump unveiled a new strategy for Afghanistan and South Asia.

Trump accused Pakistan of supporting and harbouring the Afghan Taliban and the Haqqani network. He threatened Pakistan to change that approach or face consequences.

Russia along with China, however, came to Pakistan's help by suggesting that shifting the blame on Pakistan would destabilise the region and would have negative impact on Afghan security.

Pakistan has been pushing for a regional consensus on Afghanistan. Russia, China and Iran have endorsed Pakistan's stance that the use of force will not resolve the lingering conflict in Afghanistan.

All the regional players believe that the only way out to achieve elusive peace in the war-ravaged country can come through Afghan-led and Afghan-owned peace process.