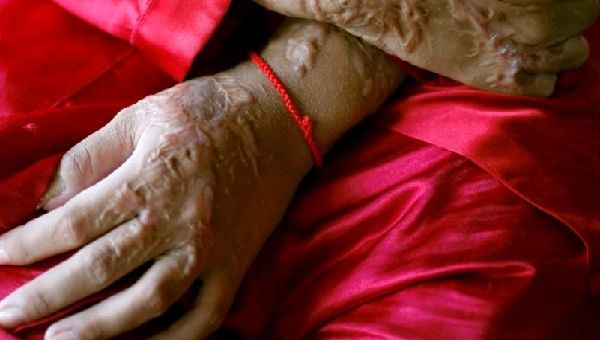 ---
A woman was attacked with acid, with two others also being injured, in Gujrat's Dang district for turning down a marriage proposal.

The victims, students of University of Gujrat, were standing at a bus stop when three men on a motorcycle hurled acid at them.

After the incident, the victims were taken to Bhatti Shaheed Hospital's burn unit, where two were said to be in critical condition.

Masked man throws acid on four girls in Sialkot

According to one of the victims, her uncle Abdul Qadeer along with his son and friend Hussam Owais threw acid on her and her friends. Upon the girl's identification, Owais was taken into custody by the police.

According to Dang district's Station House Officer (SHO), the victim's uncle attacked her for turning down a marriage proposal.

He assured that the two other accused will also be arrested soon.

Woman awarded 14-year imprisonment in acid attack case

The victim's father, Umar Bilal, has also reiterated this claim saying his daughter was attacked due to domestic dispute.

This is the third acid attack incident to take place in Gujrat the past month.

Chief Minister Punjab Shehbaz Sharif has taken notice of the incident and has asked the District Police Officer to submit a report.