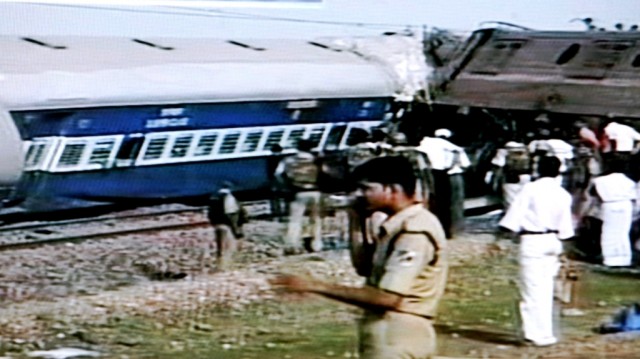 ---
Suspected Maoist rebels derailed a high-speed train packed with sleeping passengers into the path of a freight train in eastern India on Friday, killing at least 65 people, officials said.

Police said the death toll was expected to rise with dozens more bodies feared trapped in the mangled wreckage after 13 carriages of the Mumbai-bound express from Kolkata careened off the tracks in a remote area of West Bengal.

Initial reports had suggested the derailment was triggered by an explosion, but police said that there was evidence that the fishplates used to secure adjoining sections of track had been removed. "We found some Maoist leaflets at the site so it appears to be the work of Maoists," West Bengal police chief Bhupinder Singh told AFP.

"It seems there are still a large number of passengers trapped in the carriages dead or alive, we are not sure," Singh said. Another senior police official helping coordinate the rescue operation said emergency teams had recovered 65 bodies.

"And the fear is that there will be many more," police inspector general Surajit Kar Purakayastha told AFP. More than 120 people were reported injured, some of them in critical condition. Four of the carriages which had slammed into an oncoming goods train were badly crushed and flipped on their sides with body parts clearly visible amid the twisted metal.

Rescue workers with bolt cutters struggled to free anyone still alive inside. One survivor, Vinayak Sadna, said he had been sleeping when his carriage lurched violently to one side and then flipped over, flinging passengers around the compartment.

"I ended up stuck between two seats with an iron bar crushing my hand," Sadna said. "I was trapped for three hours before I was pulled out. My wife is still missing." Another distraught passenger, Ranjit Ganguly, who was travelling to Mumbai for a holiday with his family said he had been thrown from his carriage by the impact but his daughter and son were trapped inside.

Paramedic teams treated the injured on the side of the track, while the most serious cases were evacuated by air force helicopters. Railways Minister Mamata Bannerjee, who rushed to the site, confirmed that Maoists were believed to be responsible. "The railways are a soft target. They are a lifeline ... which the Maoists have attacked in the past and, it seems, even now," she told reporters.

The incident occurred at around 1:30 am (2000 GMT Thursday) in the district of West Midnapore a Maoist stronghold around 135 kilometres (85 miles) west of Kolkata. If Maoist involvement is confirmed, it will increase pressure on the Indian government, which is currently reviewing its anti-Maoist strategy after a series of deadly attacks.

Until now, the government has resisted growing calls to deploy the military against the rebels, preferring instead to use regular and paramilitary police. But Home Minister P. Chidambaram who has borne the brunt of public criticism over the handling of the insurgency -- recently acknowledged that changes were needed and said he would request wider powers.

The Maoist rebellion began in West Bengal state in 1967 in the name of defending the rights of tribal groups, and has since spread to 20 of India's 28 states. Prime Minister Manmohan Singh has labelled it the biggest threat to the country's internal security. In April, the rebels ambushed and killed 76 policemen in the central state of Chhattisgarh in the bloodiest massacre of security forces so far by the extremists.

Friday's incident was the worst loss of life on India's enormous rail network since 22 people were killed in October, when a Delhi-bound express ploughed into the back of passenger train near the Taj Mahal town of Agra.

The railway system the main form of long-distance travel in India despite fierce competition from private airlines -- runs 14,000 passenger and freight trains a day, carrying 18.5 million people.