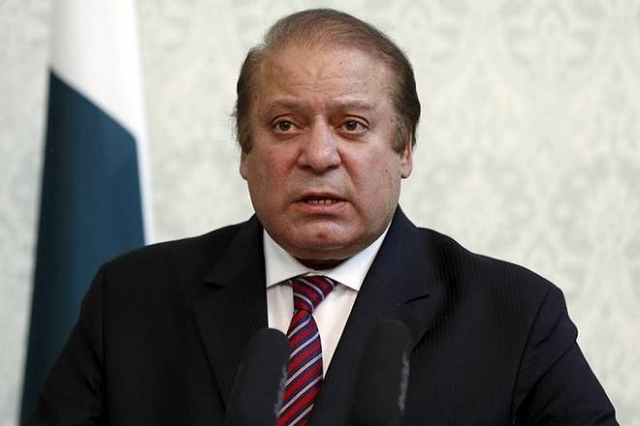 ---
Following the historic Supreme Court (SC) verdict disqualifying former prime minister Nawaz Sharif for lifetime, the Pakistan Muslim League-Nawaz (PML-N) Quaid referred to the decision as vindictive and said he had expected such a ruling from the courts.

Speaking to an informal gathering of PML-N members at his  Jati Umra residence, the deposed premier said he expected this vengeful decision based on the bias against him. "I have no qualms in saying that my existence is the sole target," he added.

Article 62: Disqualification is for life, SC rules in historic verdict

"Masses cannot be deprived of their leadership through courts, obstacles were there in the past as well, PML-N successfully overcame those and will keep struggling with the same spirit," he added further.

Nawaz asked party members to observe patience and wait for the party's call as such decisions cannot waiver PML-N's mission of serving the people..

Earlier today, the Supreme Court (SC) ruled that disqualification under Article 62(1)(f) of the Constitution was for life.

"A person shall not be qualified to be elected or chosen as a member of Majlis-e-Shoora (Parliament) unless-…he is sagacious, righteous and non-profligate, honest and ameen, there being no declaration to the contrary by a court of law," the pertinent Article reads.

Justice Umar Ata Bandial read the verdict, unanimously endorsed by the five-member bench, which stated that permanent disqualification is neither arbitrary nor unjust nor unreasonable; it is ample, the bench remarked.

The verdict stated, "the absence of a time limit for the ineligibility of a candidate for election in Article 62(1)(f) of the Constitution is the basis for holding his incapacity to be incurable by efflux of time, the reasons recorded in our judgment reinforce that conclusion."

PTI leaders react to Nawaz, Tareen disqualification

The apex court ruled that Nawaz and Pakistan Tehreek-e-Insaf (PTI) leader Jahangir Tareen can never hold public office again nor contest elections.

No PML-N or PTI leader was present in the courtroom when the verdict was delivered. Women Pakistan Muslim League-Nawaz (PML-N) activists are staging a demonstration before the court.