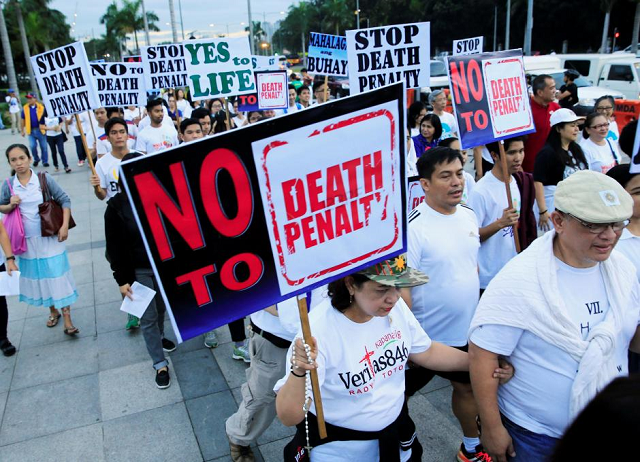 ---
Despite remaining on the list of top five countries employing capital punishment. executions in Pakistan witnessed a decline of 31 per cent in 2017, said a report from Amnesty International.

The number of executions fell from 87 in 2016 to 60 in 2017. Other countries in the top five are Saudi Arabia, Iran, Iraq and China.

The temporary moratorium on the death penalty in Pakistan was lifted after the Army Public School carnage in 2014.

SC converts death sentence of woman to life imprisonment after eight years

With more than 6,000 people awaiting execution, Pakistan has one of the largest death-row populations in the world. Yet despite the number of people being sentenced to death decreasing, legal experts and human rights groups still question the practice in the country.

"Technically, in a society where the criminal justice system has flaws  and Pakistan's criminal justice system certainly has flaws - where rehabilitation isn't, unfortunately, the top priority, ideally, we should move away from punishing people and towards rehabilitating them," said Saad Rasool, a constitutional lawyer, based in the eastern city of Lahore while speaking to Al Jazeera.

Seeking redemption: Death row prisoner asks PHC's permission to pursue higher education



Figures for death sentences in India, Indonesia, Pakistan and Thailand, among other countries, were lower compared to 2016, according to Amnesty International's report.

Middle Eastern countries Iran, Iraq and Saudi Arabia remained the top three countries in implementing punishments through executions. However executions have noticeably fallen in Saudi Arabia by 5 per cent and Iran by 11 per cent, Amnesty reported further.

A total of almost 933 executions took place in 23 countries across the world in 2017, according to the report, showing a 4 per cent drop from 2016, and a staggering 39 per cent drop from 2015.

China is believed to be the country that executes the highest number of people; "however the exact number is unknown as the data is classified as a state secret". Yet the number is expected to be somewhere in the thousands, excluded from the official total 933.

Executions in the United States slightly increased in 2017, with 41 executions being recorded by Amnesty in the US, the report stated.

"Amnesty International recorded at least 2,591 death sentences in 53 countries in 2017, a significant decrease from the record-high of 3,117 recorded in 2016." the report states.

"Now that 20 countries in sub-Saharan Africa have abolished the death penalty for all crimes, it is high time that the rest of the world follows their lead and consign this abhorrent punishment to the history books," said Salil Shetty, General Secretary Amnesty International.