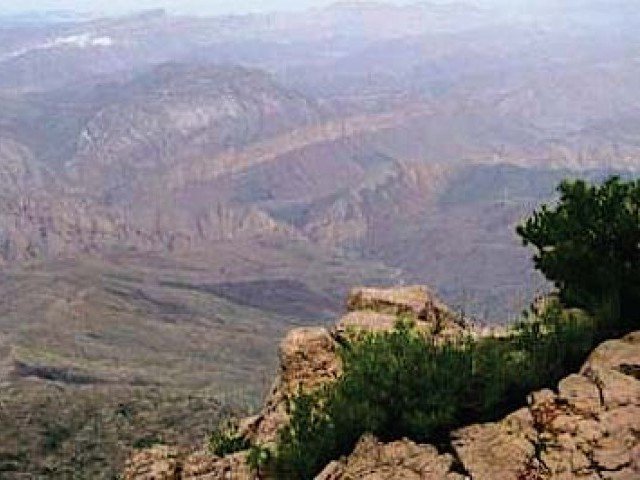 ---
KARACHI: The Sindh Assembly passed a resolution opposing Balochistan Assembly's decision to claim the tourist spot, 'Kute ji Qabar'- (the dog's grave) located on the peaks of Kirthar Mountain in Kamber Shahdadkot district.

Balochistan Assembly asserted that the area is a part of the western province. However, the resolution takes issue with these claims and points out historical and topographical contiguity of the spot with Sindh.

The resolution was tabled by Pakistan Peoples Party MPA Sardar Ahmed Chandio.

"The maps dating back to 1876, survey maps of Pakistan as well as the modern Google map, all show this area as part of Sindh Province," the resolution stated.

Sindh Assembly turns to CJP to solve water crisis in the province

It further reads: "the house reaffirms and apprehends that the point raised in Balochistan Assembly is a result of some misunderstanding on part of its legislators."

Kute je Qabar is situated at an elevation of around 6,000 and is located at even higher altitude than Gorakh Hill Station.

The mover of the resolution being chieftain of Chandio tribe also belongs to this area.

"We will not allow Balochistan to occupy our land, come what may," Chandio said adding that this area historically belongs to Sindh and all records prove it.

Though the opposition members also supported the resolution, but since it was a move out of order, it invited ire of all opposition members who insisted to finish their daily agenda.

It was private members day on Tuesday whereby all private and business resolutions presented by MPAs were being entertained.

Deputy Speaker Shehla Raza relaxed all rules and allowed Chandio to move the resolution.

"We work for weeks and months on resolutions and bills and wait for private members days where our items on agenda are supposed to be taken up, but you are relaxing all rules giving chance to treasury MPA to bring an out of turn resolution. This is not acceptable," Pakistan Muslim League-Functional MPA Nusrat Seher Abbasi lamented.

The dog's grave

"My resolution is on the agenda, so please allow me to move it," she insisted.

However, the deputy speaker did pay heed to her pleas and allowed Chandio to move his out of turn resolution.

All opposition members stood up and called the deputy speaker 'biased'.

"PPP has remained in power in federal government and now it has an opposition leader. Why is it mum on this issue in the Parliament," Abbasi questioned.

The law minister Ziaul Hasan Lanjar responded to opposition members saying: "Nothing will happen with shouting in this house," adding that PML-F leaders give an impression of being unbiased in this house, but they are actually land grabbers who have illegally occupied land in Khairpur Mir district. "Their cases are pending before the National Accountability Bureau," he said.

Looking at the intense situation in the house, Sindh Information Minister Nasir Shah went to opposition benches requesting them to calm down because the resolution was in the interest of Sindh.  After a brief protest, the opposition members returned to their seats.

Sindh, Balochistan govt at loggerheads over peak in Kirthar mountains

Installation of signboards, load-shedding, benefits for journalists and private bills

During the session, around four private resolutions were adopted in the house.

The first resolution on the agenda pertained to Abbasi regarding the installation of signboards in three languages – English, Urdu and Sindhi– on roads across the province. The resolution was passed unanimously.

Another resolution was moved by former Muttahida Qaumi Movement (MQM) MPA Naila Munir who has recently joined Pak Sarzameen Party (PSP). She demanded an end to the hours-long load-shedding in the province.

However, Naheed Begum of MQM-P who has also defected to PSP moved a resolution to fulfill Pakistan Federal Union of Journalists (PFUJ) demand to provide service structure, job security, life and health insurance, gratuity, provident fund and salary increase for working journalists of TV and print media.

The assembly also adopted four private bills.

Sumeta Afzal Syed of MQM moved a bill calling for the "Prohibition on manufacture, promotion, distribution, importing, sale and consumption of Gutka and Mainpuri  in the province."

Pakistan Tehreek-e-Insaf MPA Dr Seema Zia presented a bill titled "Sindh Street Children Shelter Home Bill 2018."

Saira and Rana Ansar moved a joint bill on "Fair representation of Women."

Meanwhile, PML-F MPA Nand Kumar's "Sindh Hindu Marriage Bill" could not be taken up as he was not present in the house

The session was been adjourned till Thursday.

Earlier, as the session started two hours behind the schedule at 12 noon, there were few MPAs in the hall, who were irked by Speaker Durrani who said: "I have been waiting for the past two hours in my chambers, but no one takes the session seriously."

He further added that there was no need for summoning the session if members were not interested in attending it.




COMMENTS
Comments are moderated and generally will be posted if they are on-topic and not abusive.
For more information, please see our Comments FAQ