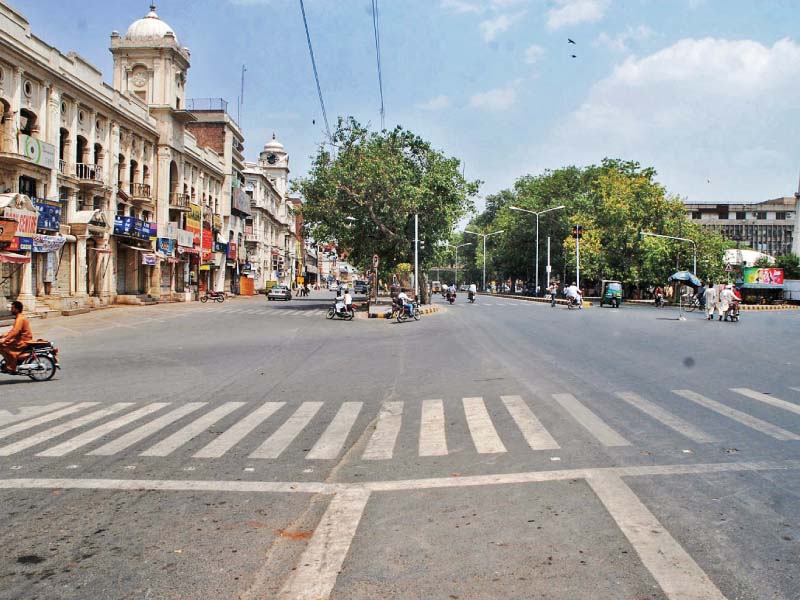 ---
LAHORE: The Government of Punjab has banned protests on Mall Road and declared the area from 'Mian Mir Bridge to Istanbul Chowk' as a 'red zone'. The area has now been identified as highly sensitive.

Lahore High Court banned protests on Mall Road in 2011 through an order on a petition filed by merchants with shops in the vicinity of the major thoroughfare. After the February 2017 Mall Road blast at a protest in which two senior police officers were martyred, the government and the court refreshed this ban. However, it has never been followed and even mainstream political parties such as Pakistan Tehreek-e-Insaaf and Pakistan Awami Tehreek etc have held protests, let along demonstrations by doctors, nurses, clerks, teachers, milkmen, traders and peasants.

Over the last few weeks, Faisal Chowk, which is in front of Punjab Assembly on Mall Road, has started resembling the famous Tahrir Square in Egypt. Lady health workers also held a sit-in which spanned over a week. Meanwhile, a protest by employees of the livestock department was also held. Earlier this week, property dealers also demonstrated, but were arrested by police. Last month, nutrition officers and others protested at the same place.

Following these recurrent protests on Saturday, additional chief secretary home Azam Suleman Khan issued an order stating that various groups, organisations and communities have made it a matter routine to protest on Mall Road.

The order read that these gatherings not only served as soft targets for terrorist acts, as was the case on February 2, 2017, but also provided a possible cover for militants to sneak in and target sensitive installations on the road.

The order mentioned that the area was home to a number of sensitive installations/buildings including the Punjab Assembly, Governor House, Lahore High Court, 90 Shahrah-e-Quaid-e-Azam and State Bank of Pakistan etc. Due to the prevailing security situation, alerts from intelligence sources of possible terror attacks have been frequent.

The order added it was essential to ensure security of the installations/buildings located in the aforementioned red zone for public safety.

"Now, therefore, I, Major Azam Suleman Khan, additional Chief Secretary Home Deportment, Government of the Punjab, in exercise of powers vested in me under section 144 (6) of Criminal Procedure Code, 1898 and in continuation of Order of Home Department, Government of the Punjab do hereby prohibit all kinds of assemblies, gatherings, sits-in, rallies, processions, demonstrations, rallies, jalsas, dharnas, protests and such like other activities within the red zone," the notification read.

The ban will come in effect immediately and will last for six months. The chief secretary home continued that the stated order shall be given wide publicity the general public's information.

Published in The Express Tribune, April 8th, 2018.
COMMENTS
Comments are moderated and generally will be posted if they are on-topic and not abusive.
For more information, please see our Comments FAQ