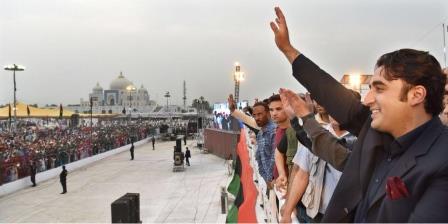 ---
Chairman Pakistan Peoples Party (PPP) Bilawal Bhutto Zardari, at a gathering in Ghotki on Friday, said PPP's politics is based on the slogan of roti, kapra, makan but the opposition is filling the stomachs of the rich in the country.

Addressing a crowd, Bilawal said his grandfather took land from feudal lords, landowners and distributed it among the poor and the needy of the nation and PPP is still adhering to the same policy.

"We started Benazir Income Support Program so that women get their rights. Sindh government started the movement for eradication of poverty, while the opposition is only doing politics for the rich and the privileged class of the society," Bilawal said.

The PPP scion also criticised the government for it plans to privatise Pakistan International Airlines (PIA) and Pakistan Steel Mills (PSM).

Sharif be held accountable for his all three stints'

The PPP chairman added that he does not consider Pakistan Tehreek-e-Insaf (PTI) Chairman Imran Khan a politician as he keeps changing his stance. He also slammed Imran for coming closer to a former Sindh chief minister, as Bilawal maintained the CM was let go due to corruption charges.