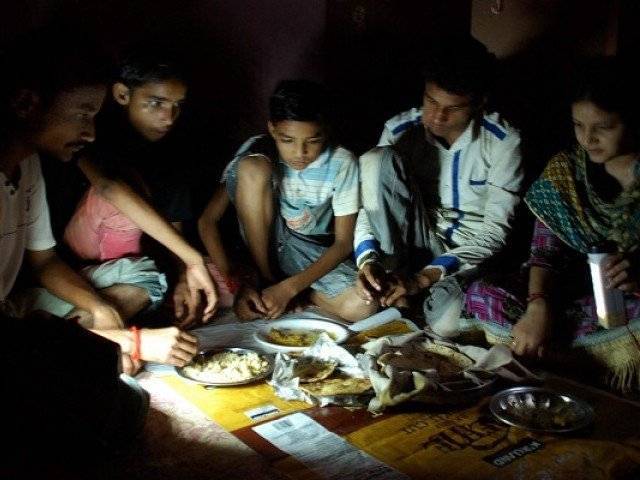 ---
ISLAMABAD: In an indication that loadshedding is not likely to end – not even during Ramazan -- Prime Minister Shahid Khaqan Abbasi has directed the authorities concerned to at least spare Sehr (pre-dawn) and Iftaar (breaking of fast) timings from loadshedding.

Abbasi issued the directives on Tuesday while presiding over a meeting of the Cabinet Committee on Energy (CCoE) at the Prime Minister's Office.

The Prime Minister directed the Power Division to "ensure that all units of the existing power plants remain online and there is no power interruption during Sehr and Iftar timings", a statement from the PM Office said.

During the remaining fasting hours, the loadshedding would continue — as per routine in areas where it is being carried out, official sources said.

A senior government official, who formerly served at the Power Division, termed the federal government's recent stance about the power situation being in contradiction to its previous stance.
In the recent past, the federal government authorities -- including PM Abbasi -- took credit for not only ending power outages across the country, but also producing surplus electricity.

"This hardly makes sense. If the government is producing surplus electricity and claims to end loadshedding across Pakistan, then what prompts the prime minister to ensure no power interruption and that, too, only during Sehr and Iftar timings in Ramazan?" the official asked.

PTI rubbishes govt's 'zero loadshedding' claim

"If we finally have become self-sufficient in the power generation as claimed by our government, we don't need to make special arrangements for ending loadshedding during Ramazan or any other occasion."

PM Abbasi publically reiterated on different occasions that the federal government ensured 'zero loadshedding' across the country.

Later, following persistent power outages in different areas, the federal government reviewed the policy and announced that zero loadshedding would be observed in those areas where line losses — including those coming from power theft — were either nil or very low.

The areas where line losses were high would see loadshedding on a regular basis as per the related schedules.

However, after recent rise in temperature that increased the power demand, loadshedding is being carried out in those areas that were previously seeing no power outages due to either very low or nil line losses.

The PM Office statement after the CCoE huddle said the meeting discussed reform agenda in the power sector and emphasised upon the "need for early completion of need-assessment for procuring quality human resource and streamlining of the recruitment process in the Ministry of Energy so as to ensure timely recruitment of the required human resource".

The CCoE directed DISCOs (Distribution Companies) to take effective measures in order to reduce line losses and improve recoveries of power dues.
COMMENTS
Comments are moderated and generally will be posted if they are on-topic and not abusive.
For more information, please see our Comments FAQ