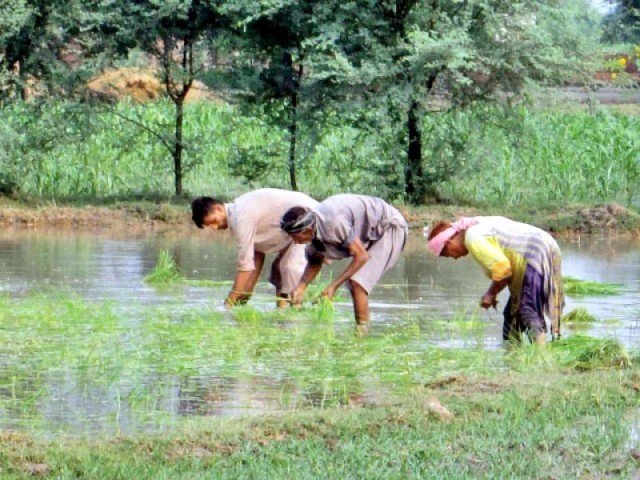 ---
ISLAMABAD: With up to 60 per cent water shortage at rim stations, the upcoming Kharif crops face a serious challenge.

The situation is compounded by less water availability in two major reservoirs -- Tarbela and Mangla dams – that hit dead.

The water crisis caused by climate change not only posing a threat to the Kharif crops, it also led to a drop in hydel generation to an alarming level, causing elongated loadshedding across the country.

The total hydel generation dropped to 1,050 megawatts (MW) due to cut in water releases from dams against the installed capacity of 7,000MW.

At present, Tarbela is generating 325MW and Mangla, 200MW.

River flows: Kharif sowing season to face higher water shortage

Keeping in view the shortages in the system, Indus River System Authority (Irsa) on Sunday decided to close downstream water releases from Chashma for Punjab with immediate effect.

Irsa Spokesperson Khalid Rana said, "So from April 4, Taunsa Panjnad Link Canal will be closed."

"Today, shortages to Punjab and Sindh have increased to 60 per cent at rim stations," the spokesperson added.

The Irsa advisory committee that met on March 29 had projected 31 per cent water shortages in early Kharif during the sowing season due to higher losses and less water inflows into rivers.

Punjab and Sindh would face 31 per cent water shortage. However, Balochistan and Khyber-Pakhtunkhwa have been exempted from water shortage during the Kharif season that lasts from April 1 to November 30. Rice, sugarcane, cotton and maize are some of the key crops of the season.

However, against the projection of 31 per cent water shortage for early Kharif, the shortages have reached to an alarming level of 60 per cent at a time when the Kharif crops' sowing season is about to start.

Due to less water releases from dams, farmers would be depending on groundwater.

Pakistan Metrological Department and Wapda representatives also informed the meeting that the country had received 50 per cent less snow in catchment areas.

Moreover, Irsa decision to cut water share of Punjab and Sindh is also related to less water inflows from rivers.

The water share of Punjab was reduced to 26,000 cusecs from 29,000 cusecs, and that of Sindh to 17,000 cusecs from 20,000 cusecs.

Top Pakistan diplomat leaves for India to discuss water conflict

"Still running with a discharge of 2,000 cusecs, Irsa will decide about CJ on Monday (today)," the spokesperson said, adding, "Temperatures at Skardu touched 20 degrees, the flows have yet to increase which is quite alarming."

"However, the situation will clear in the next 48 hours," he said, adding, "Water shortage would also definitely have a bad impact on hydel generation as Tarbela and Mangla dams are still at dead level."

"The Irsa recorded water inflow of only 44,000 cusecs today, compared with an inflow of 123,000 cusecs last year," Rana said, adding, "Last year, Skardu temperature was 16.7 degree and discharge was 27,600 cusecs. Today, temperature is 20.6 degree but the discharge level is 17,000 cusecs."

The country had witnessed less water availability for the Rabi crops from October 1, 2017 to March 29, 2018.

Total water shortage had been anticipated at 33 per cent during Rabi corps. The total water availability was estimated at 36.17maf, but it remained at 24.06maf.

Punjab was estimated to face 35 per cent, Sindh (34 per cent), K-P (26 per cent) and Balochistan (7 per cent) water shortage during the entire Rabi season.