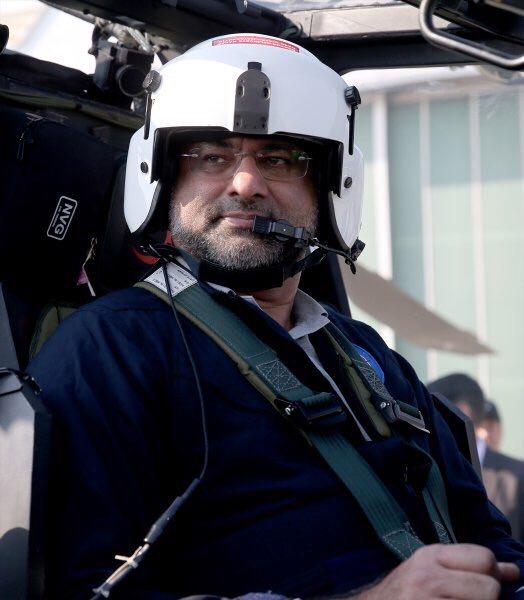 ---
ISLAMABAD/ KARACHI: Prime Minister (PM) Shahid Khaqan Abbasi had to reportedly undergo a security check at a United States (US) airport, regarded as an 'indignity' to holders of top offices, during a recent visit to the country.

In a video doing rounds on social media, the premier is seen wearing a red polo shirt while undergoing security. He can then be seen carrying his personal belongings and coat after clearing the security check.

Abbasi was reportedly on a private visit to the US to meet his ailing sister and also to meet Vice President Mike Pence on the visit as well.

US considering permanent freeze on Pakistan military aid: American magazine

Official sources privy to the matter told The Express Tribune that the PM was travelling on his personal passport during the visit. Sources added that the PM is a simple man and doesn't mind undergoing security checks as a citizen of Pakistan.

However, they also said that the video is under scrutiny and that the authenticity of the video can't be confirmed.

"He was on a private trip so he went through the security check like all passengers. In the US this involves taking off any clothing with metal, your jacket and your shoes when passing through the scanner. He was not strip searched, that's complete nonsense," a family member of the premier told The Express Tribune, refuting reports by Indian media outlets.

"He was on a commercial flight, so he was travelling as a normal passenger and went through normal security procedures. When he went in September to the UN, it was an official trip and he was received by US security officials and escorted as per VIP protocol directly from the plane," the family member added.

https://twitter.com/owaistshah/status/978870589111914496

Reports of the prime minister undergoing a security check come amid speculations and rumours of the Trump administration imposing bans or sanctions on certain individuals within the government. Washington also announced sanctions on seven Pakistani companies over suspicions of a link to nuclear trade.

Yesterday, Defence Minister Khurram Dastgir Khan said that the strained bilateral relationship between Pakistan and the US stems from Washington's focus on a military partnership with Islamabad rather than engaging the country as a democracy, according to Voice of America News.

In an interview with the news agency, the minister argued that the approach pushed Pakistan to turn towards China and initiate rapprochement with Russia, as the US moves away from providing military assistance to a major non-NATO ally.

The US-Pakistan relationship has suffered as successive White House administrations have blamed the country for not doing enough to eliminate terrorist sanctuaries along the PAk-Afghan border.

The Trump administration has also been looking into a range of new options to incrementally pressure Pakistan into acting against militants, Foreign Policy reported.

Pakistan warns US against questioning its credentials

According to the American publication, White House functionaries are weighing unprecedented penalties including revoking the country's major non-NATO ally status, permanently cutting off military aid and imposing a visa bars on Pakistani government officials.

However, the magazine claimed the suggestions stimulated internal debate in Washington circles on the "tempo and scale" of the under-consideration measures. The publication noted some officials and military men favoured pursuing an aggressive policy while others counselled caution.
COMMENTS (8)
Comments are moderated and generally will be posted if they are on-topic and not abusive.
For more information, please see our Comments FAQ