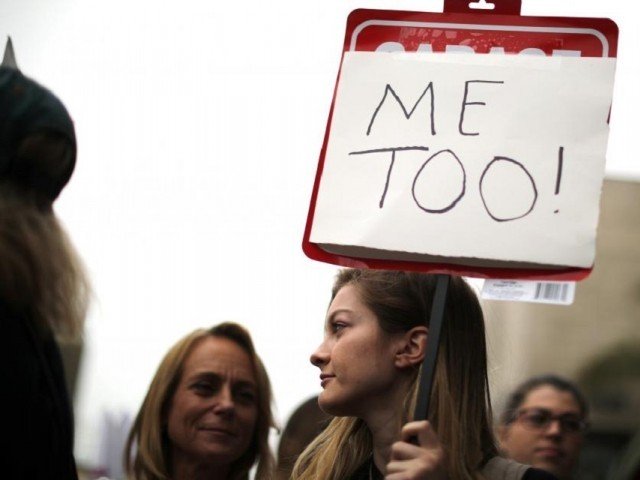 ---
RIO DE JANEIRO: Female Brazilian sports journalists fed up with being groped, insulted and kissed while on the job are showing sexual harassment the red card.

An online campaign under the hashtag #DeixaElaTrabalhar, or #LetHerWork, is making waves simply by demanding that the male-dominated sports world treat female reporters with respect.


Standing with my fellow Brazilian women. #deixaelatrabalhar #letherwork 🇧🇷 @HugoGloss pic.twitter.com/8EoPQYS6G1

— Morena Baccarin (@missmorenab) March 26, 2018


Several women journalists appear in a campaign video that opens with footage of Bruna Dealtry, from Esporte Interativo, recoiling from a shirtless football supporter when he suddenly kisses her face as she reports from a busy fan zone.

Two Indian journalists killed in 24 hours

"Recently, it also happened to me," a reporter says, before another adds, "We are women and professionals."

"We just want to work in peace," another says in the clip, viewed on Twitter more than 730,000 times.

The campaign -- which dovetails with the global #MeToo movement against sexual harassment, particularly in workplaces -- was launched Sunday by a group of about 50 journalists and other media professionals.

Dozens of Brazilian football clubs gave their support.

US serial sex offender grabbed by police after 48-hour freedom

"The woman's place is where she wants it to be -- in the stadium, the office, the street, here or there," Belo Horizonte football club Cruzeiro tweeted. "They just want their rights to be respected. Without harassment."

"Our complete support. We're together on this!" tweeted Rio de Janeiro club Vasco da Gama.

Dealtry, who played beach volleyball at a high level before turning to television, posted the clip of the forced kiss on her Facebook page, getting 1.5 million views.

"A kiss on the mouth, without my permission, while I was doing my job.... Today I felt the sense of powerlessness that many women feel in stadiums, metros or even just walking along the street," she wrote.