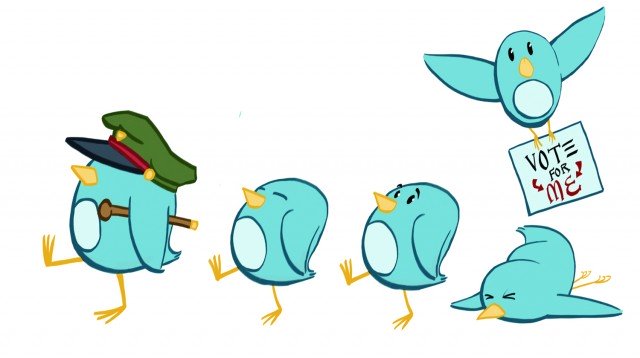 ---
It is often lamented that Pakistani politicians, unlike their counterparts in the West, are not forced to routinely give press conferences where their answers are unscripted and they have to speak off-the-cuff. Prepared statements, vetted by countless advisers and consultants, are all well and good. What Pakistanis would like to see are public figures forced to reveal their thoughts and opinions, something that would show their personality.

Although the number is still small, at least a dozen politicians have signed up for, and aggressively use, Twitter, a social networking site that allows users to post short thoughts no longer than 140 characters. It has allowed previously dull politicians to market themselves and show their true colours to the Pakistani people (or at least to that minute segment of the population that obsessively checks Twitter).

The Punjabi Lion Slayer

Few have to taken to Twitter like Punjab Governor Salmaan Taseer. In the one month that he has been posting regularly on the site, Taseer has lashed out against the Sharif brothers, journalists and the judiciary. In doing so he has revealed a biting wit few imagined he possessed. On May 5, he tweeted (a word that may sound ridiculous but has become a part of the lingua franca of the Twitterverse), "Noting with concern the Sharifs r only paying rs5000 per month tax I have asked for them to b included in the Benazir Income Supprt Prgrm." He followed that up a few days later with a comment on Nawaz Sharif's London trip and the British elections, "Following Nawaz Sharif sudden departure for UK we r expecting formation of Labour Party 'forward block'." On the occasion of his two-year anniversary as governor, Taseer, who had been vehemently opposed by the PML-N throughout his tenure, said on Twitter, "In may I will complete 2 yrs as governor punjab.plz send ur flowers gifts etc to Raiwind to thank the sharifs for their love and support."

When Taseer felt the need to comment on the Hamid Mir controversy, it was an indicator that Pakistani political scandals had moved into cyberspace. An audio recording, purportedly between talk-show host Mir and a member of the Taliban, had indicated that Mir may have incited the murder of ex-ISI official Khaled Khawaja, who had been kidnapped and killed by a previously-unknown group calling itself the Asian Tigers. Although Mir denied that he had ever had that conversation, Taseer blasted him on Twitter. The day his newspaper, The Daily Times, published a front-page editorial blasting Hamid Mir, Taseer tweeted, "Go 2 google 'hamid mir busted' and u can c who is linked wth Taliban."

But Taseer doesn't use Twitter only to fight political battles. His bon mots cover all topics, including cricket. During the recent T20 World Championships, when Pakistan needed England to win their final match to qualify for the semi finals, the governor wrote, "Tomorrow I will be leading prayers in the Badshahi Masjid 4 the success of the English team vs RSA." Taseer summed up his philosophy towards his tweeting best when he said, "My wit is not appreciatd by all. someone agitated 'no govnr in the universe twitters like u' I took it as a compliment."

Building a Constituency

When former president Pervez Musharraf announced that he planned to return to politics, he made much of the fact that he had 127,000 followers on Facebook. Politicians who do not have a grass-roots constituency can point to their popularity in other media as proof of their relevance. Pakistan Tehrik-e-Insaaf's Imran Khan may be the darling of talk shows but has only been able to translate that into one seat in parliament since 1997. Imran, too, has taken to Twitter where he repeats the same talking points that he makes on television ad nauseum. A sampling: On April 1 he declared, "After 9/11 if pak had a leader he would have withstood pressure, stayed neutral.There would be no Pak taleban,suicide attks or econ crisis." A couple of weeks later he tweeted, "Those mentally colonised Paks who justify bombardment as a legitimate way of fighting terrorists are inadvertantly promoting extremism." Imran also used the forum to urge Muslims in Britain to vote for anti-war candidates in their general elections.

Another politician without a significant following in Pakistan, Ijaz-ul-Haq of the Pakistan Muslim League – Zia, uses Twitter to articulate his particular brand of ultra-nationalism. Just two weeks after signing up for the service, Ijaz-ul-Haq ignited a minor firestorm when he tweeted, "The next war with India will most probably be over water." After an Indian tweeter had the temerity to call him out, Ijaz-ul-Haq responded to him by saying, "Thank you. It's an honor to be abused by an Indian. You have shown your true colors. Have a good weekend."

Dear Diary

No politician has taken to Twitter quite like Marvi Memon of the PML-Q. It isn't an exaggeration to say that Memon is obsessive about her tweeting. In the year that she has been on the site, she has managed to post over 7,000 tweets. And their scope is quite breathtaking. Over the course of a few minutes, she will post tweets about her son's homework, her desire to play golf, a comment on local governments and when and where she will be making her next television appearance. In a fury of tweeting, good grammar, spelling and logic will go out the window.

As easy as it is to poke fun of Memon's twitter activity (in fact, it has become something of a pastime to mock her on Twitter), no politician has been as successful as her at cultivating a personality, voicing her opinion on important issues and showing the hurly-burly of life as a working mother in the national spotlight. In short, she has used Twitter to show her personality.

The PML-Q's Mushahid Hussain, meanwhile, seems to have discovered an alternative calling on Twitter: that of movie critic. On April 25, he informed his followers that he "Enjoyed viewing Saturday night rerun of Anthony Hopkins/Jodie Foster truly riveting masterpiece thriller The Silence of the Lambs." He also had words of praise for Sleeping with the Enemy and "old favourite George Clooney's unconventional Up in the Air", which he called "his best since Syriana." Mushahid apparently also saw My Name is Khan while taking a midnight journey on the Lahore-Islamabad motorway and commended Shahrukh Khan for his "superb performance". Unlike other politicians on Twitter, Mushahid takes the 'social' part of social media very seriously, making it a point to respond to a lot of his followers.

The Importance of Being on Twitter

The presence of Pakistani politicians on Twitter may not gain them a lot of (or any) votes in the next elections. It will not make them overnight celebrities. But, if Pakistan follows trends established by other countries, Twitter may soon become a part of our political discourse. In India, External Affairs Minister Shashi Tharoor was forced to resign after then IPL chief Lalit Modi ignited a Twitter war with him after revealing Tharoor's shady involvement in an IPL franchise. Increasingly, news is being broken on Twitter and the media's attention is being turned to what was once seen as a fad but is now a genuine phenomenon. And wherever the media goes, politicians are sure to follow.

Published in the Express Tribune, May 30th, 2010.
COMMENTS (8)
Comments are moderated and generally will be posted if they are on-topic and not abusive.
For more information, please see our Comments FAQ