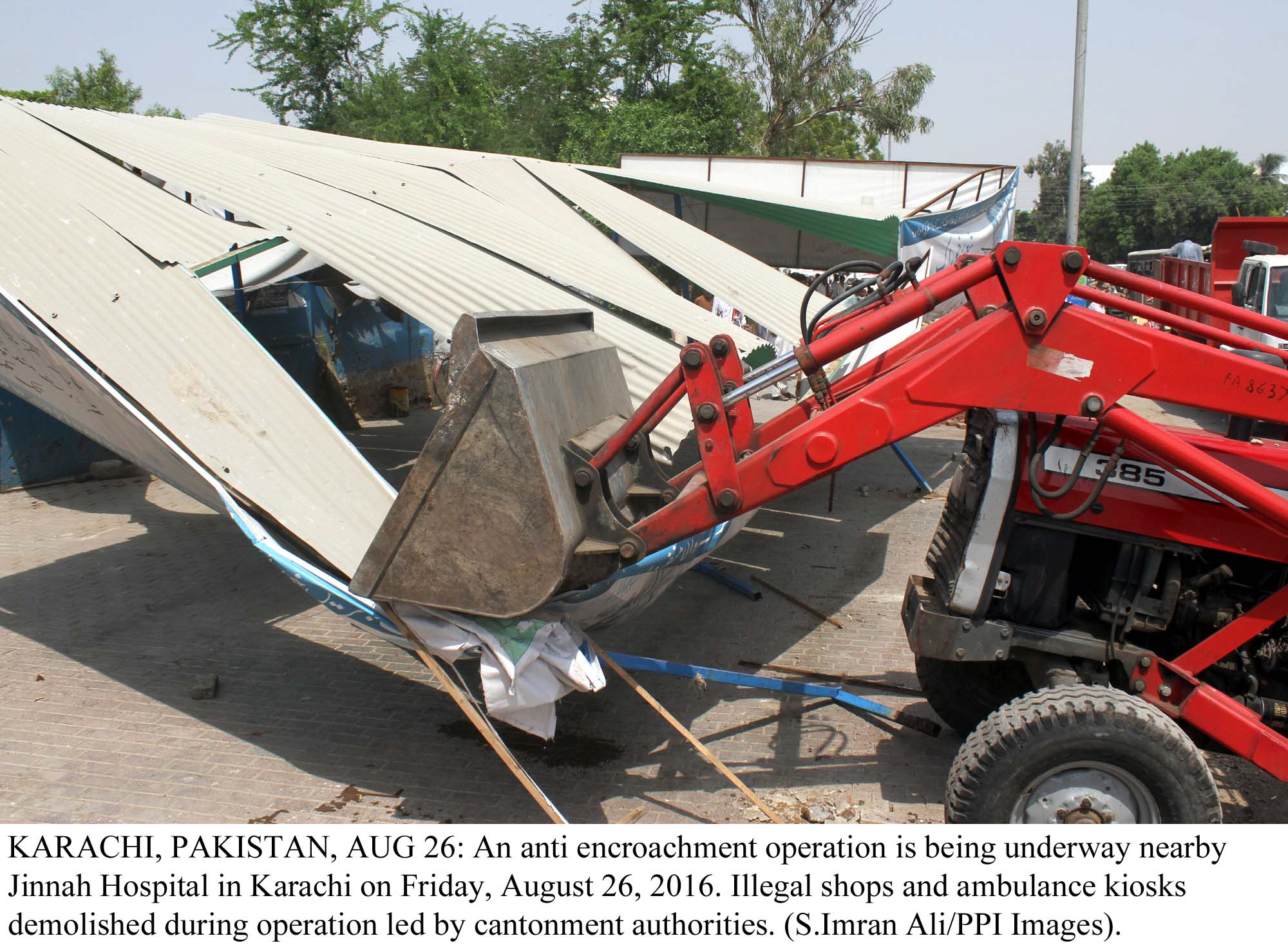 ---
KARACHI: The Supreme Court (SC) directed on Friday the Karachi Development Authority (KDA) to take strict action to end illegal carving of land, commonly known as China-cutting, and remove illegal encroachments from 35,000 amenity plots in the metropolis.

A three-judge bench, comprising Justice Ejaz Afzal Khan, Justice Gulzar Ahmed and Justice Umar Ata Bandial, gave these orders while hearing a case relating to the allotment of  an amenity plot to a female petitioner by the KDA after her own plot was encroached upon in New Karachi.

At the outset, the bench members inquired from the KDA director-general (DG) about action against the illegal carving of thousands of amenity plots in the city and encroachments on them.

The DG submitted a report, stating that encroachments had been removed from more than 17,000 amenity spaces in compliance with court's earlier directives.

Justice Ahmed remarked that thousands of amenity spaces were still encroached upon. He asked the DG what steps the authority took to recover them. The judge observed that there were encroachments everywhere in the Gulistan-e-Jauhar locality.

An illegal furniture market had been set up at a space reserved for parking in front of the Samama Shopping Mall, the judge told the KDA DG and ordered him to remove the same.

Graveyard encroachment: SHC issues notices to district administration, HMC

A law officer for the KDA informed the SC that the authority needed help from the police and other departments concerned to launch anti-encroachment operations, to which the bench members remarked that it was the KDA's responsibility to seek assistance from the relevant authorities.

"First a donkey cart is parked at an open plot, then a flag is raised and then the land is encroached [upon] by setting up huts," the bench remarked.

The apex court directed the KDA DG to end the illegal carving of amenity plots, remove all encroachments from them and submit a progress report to the court.

Case history

On November 28, a KDA director informed the SC that many amenity plots in Karachi had illegally been occupied, carved out into small plots and sold. According to the authority's statement, there were 35,000 amenity plots in 112 areas that had been encroached upon.

The apex court ordered the KDA DG and others to remove all encroachments from such plots within two months.

SC to take up seven major cases today

After two months, the KDA chief informed the court that 1,569 amenity plots were retrieved through demolition operations against 239 houses, 509 structures, 204 boundary walls, 371 shops, 167 marriage halls, 12 hotels, four dispensaries and hospitals, and 18 thallas (paved works).

A report submitted by the KDA DG also stated that operations were also carried out at eight amenity plots illegally converted into commercial plots, 14 warehouses, four offices, 12 farmhouses and seven illegal cattle pens.

A breakup suggested that 189 operations were carried out in Gulistan-e-Jauhar Scheme 36, 22 in Gulshan-e-Iqbal Scheme 24, 274 in North Karachi, 847 in Surjani Town Scheme 41, 104 in Korangi, 43 in Landhi, 38 in Federal B Area Scheme 16, 22 in North Nazimabad, 28 in Malir and two in Shah Faisal Colony.