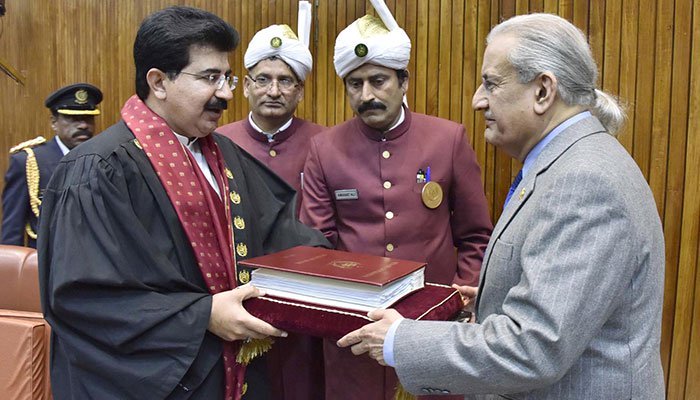 ---
ISLAMABAD: A constitutional petition challenging the election of Senate chairman was filed in the Supreme Court on Friday.

The petition states that the election of Sadiq Sajrani, a 39-year-old, as Senate chairman is in violation and contravention of Article 41(2) read with Articles 260 and 49 of the 1973 Constitution.

In his petition, Barrister Ammar Hussain Khushnood highlights that under Article 49(1) and (2), in case of the presidency post being vacant or the president is absent or unable to perform his duty, the Senate chairman becomes the acting president without being elected.


Senate chief's election 'to strengthen federation'


He further added that keeping in view that Article 41(2) of the Constitution states "a person shall not be qualified for election as president unless he is a Muslim of not less than 45 years of age and is qualified to be elected as member of the National Assembly", Sajrani does not qualify to be acting president due to his age.

The writ petition prays to the top court to declare the election Sanjrani as chairman of the Senate as "being illegal, void ab initio and in violation of the provisions of the Constitution of Pakistan, 1973."

Temperatures run high as PM Abbasi's son, PTI lawmaker clash in Senate

It also requests the SC to declare the qualifications for Senate chairman and Speaker National Assembly to be the same as President of Pakistan under Article 41 (2).

Barrister Khushnood has asked the apex court to provide interim relief to the petitioner by restraining Sajrani from acting as and performing the duties and functions of Senate chairman or prevent him from taking charge as acting president under Article 49.