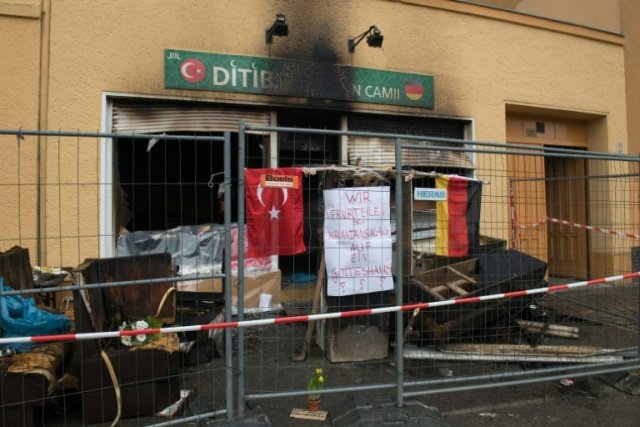 ---
BERLIN: Islamic groups in Germany Thursday criticised a lack of solidarity and support over a spate of attacks on Muslims and mosques carried out by right-wing militants and "terrorist" groups.

They said Muslims were being made to feel that "they carry partial blame because, after their mosques have been desecrated by neo-Nazis using pig heads and graffiti of crosses, they are now also being attacked by foreign terrorist groups".

Arizona women talk children into vandalising mosque in distressing video

Last weekend saw a spate of arson and vandalism attacks targeting Turkish-German mosques, cultural institutions and businesses, some of which were claimed in online statements by militant pro-Kurdish groups angered by the Turkish military offensive in northern Syria.

"For decades, Muslims have faced a constant right-wing extremist threat" in Germany, said a joint statement by the Islamic Council, Central Council of Muslims, and the Coordinating Council of Muslims in Germany (KRM).

"This threat has been exacerbated by foreign terrorist groups."

This year had seen 27 attacks on Islamic houses of worship so far, ranging from graffiti to arson attacks, after more than 100 cases last year, said KRM spokesperson Zekeriya Altug.

"In view of this massive threat situation, we miss tangible sympathy from the public and politicians," said Altug, also a board member of the Turkish-Islamic Union of the Institute for Religion (Ditib).

Three men charged with Minnesota mosque bombing

The detection rate for these offences is very low, said Islamic Council chairman Burhan Kesici at a joint press conference.

The chairman of the Central Council of Muslims in Germany, Aiman Mazyek, questioned Turkey's decision to summon the German ambassador after the recent attacks, saying they were not part of a bilateral conflict but a security problem in Germany.

"An attack on a house of worship is an attack on our democracy," he said.
COMMENTS
Comments are moderated and generally will be posted if they are on-topic and not abusive.
For more information, please see our Comments FAQ