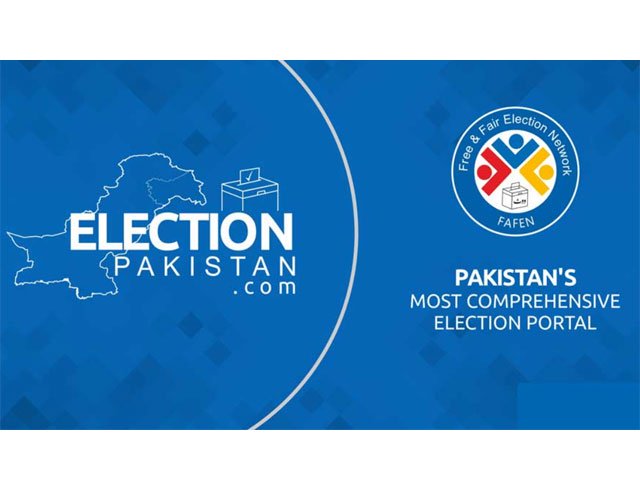 ---
KARACHI: The Free and Fair Election Network (Fafen) rolled out on Wednesday an election information portal titled "Election Pakistan".

The portal aims to provide consolidated election-related information on a single platform.




To fill the information gap with accuracy and credibility, Fafen has digitalised the voluminous election data for users.

"This portal will enable citizens to access information that is difficult to get. Information certainty is the first step towards rational and informed choices," Fafen senior director programmes Muddassir Rizvi told The Express Tribune.





TDEA-FAFEN Launches Pakistan's Most Comprehensive Election Portal
Visit https://t.co/q74J4azIla #ElectionPakistan https://t.co/VEaHYfYFr0 pic.twitter.com/m9t53e3SgC

— FAFEN (@_FAFEN) March 14, 2018


It has been designed to dispense reliable and up-to-date election information for users to draw self-analysis of the election data, cross-examine candidates' data with constituencies, statistics as well as election-related reports and publications.

The portal has complete data of national and provincial assemblies from 1970 to-date, including by-elections.

It provides detailed insight into the history of political parties, their alliances and electoral boycotts, besides giving vital information on critical and safest seats of the various political parties.


The election portal also provides a complete list of the contestants since 1970.

With election records of more than 62,506 candidates, the portal has the scalability to synchronise candidates' election records that reflect the election records of contesting candidates.

The portal also contains the records of more than 7,300 unique constituencies of national and provincial assemblies.

Each constituency's record can be searched with complete information and historical timeline.

FAFEN seeks age-wise population data to count eligible voters

It also shares the analysis based on geographical clustering of constituencies, including changes in the vote-shift, top three political parties, registered voters and the turnout.
TDEA-FAFEN Launches Pakistan's Most Comprehensive Election Portalhttps://t.co/VEaHYfYFr0 #ElectionPakistan pic.twitter.com/5n5phzYVAK

— FAFEN (@_FAFEN) March 14, 2018
The portal will also keep the records of all future elections in the country.
Addressing the launching ceremony, Fafen CEO Shahid Fiaz doubled down on the need to use technology in fostering democracy in the country while General Secretary Fafen Sarwar Bari highlighted the initiative in bringing transparency in the democratic process.
COMMENTS
Comments are moderated and generally will be posted if they are on-topic and not abusive.
For more information, please see our Comments FAQ