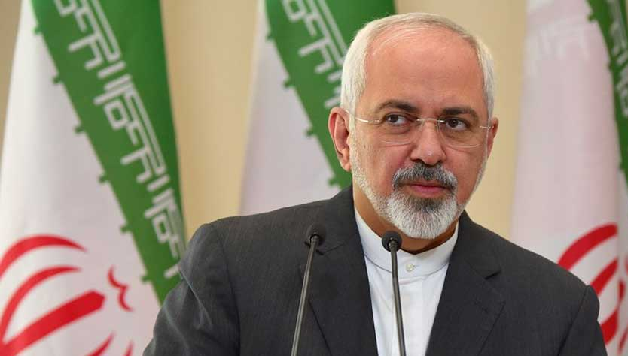 ---
ISLAMABAD: Iran's Foreign Minister Dr Javad Zarif on Monday said the United States was not interested in bringing peace to Afghanistan, and urged Pakistan and Afghanistan's other neighbours to work together for putting an end to the lingering conflict in the war-torn country.

Speaking at the Institute of Strategic Studies, the visiting top Iranian diplomat insisted that the US was promoting its own interests in Afghanistan and did not want stability in the region.

"I believe that the US is neither interested in the stability of our region nor in the region's security. It was only interested in promoting its own short-sighted objectives," Zarif added.

The Iranian foreign minister is currently on a three-day visit to Pakistan. He is leading a 49-member delegation. He held formal talks with Foreign Minister Khawaja Asif and also called on Prime Minister Shahid Khaqan Abbasi.

Iran foreign minister criticises EU 'extremism' towards Tehran

During talks, the two sides discussed bilateral ties as well as key regional issues including the current situation in Afghanistan.

Zarif endorsed Pakistan's stance that solution to the Afghan conflict could only be found through dialogue.

He said both Pakistan and Iran should use their influence to help Afghanistan restart dialogue process with Afghanistan.

Given the US failed policies, the regional approach was required to bring much needed peace and stability in Afghanistan, Zarif added.

He said Da'esh was posing threat to everybody in the region and accused the US of supporting the terrorist group.

"The presence of Da'esh in this region is a threat to all of us. Unfortunately, Da'esh was defeated territorially in Iraq but the ideology was not defeated. The network was not defeated and more importantly our intelligence as well as eyewitness account suggest that Da'esh fighters and terrorists were airlifted and rescued from battle zones," Zarif maintained.

On bilateral ties, Iran's foreign minister said political issues and other difficulties would never break the ties that existed between the people of Iran and Pakistan.

"We have probably the longest diplomatic relations with Pakistan, but relations between the people of the two countries are much deeper, rooted in our common history, common culture and common values," he maintained.

"Let me assure you that Iran will never do anything to harm Pakistan and we are confident in Iran that Pakistan will never do anything to harm Iran. We have so much confidence in each other," said the Iranian foreign minister.

He said that Pakistan had always been on their side in times of difficulty. "We know that Pakistani brothers and sisters don't forget that Iran has been on their side."

Zarif said the Iran-Pakistan gas pipeline hopefully would complete, the banking relations between Iran and Pakistan would resume, the Free Trade Agreement would be signed, and the Chabahar and Gwadar ports would become complementary projects.

Meanwhile, a statement issued by the foreign office said the two sides agreed to continue engagement for enhancing economic cooperation including bilateral trade, investments and commercial interaction to promote shared prosperity.

They reiterated their resolve to achieve the target of $5 billion by 2021 through regular exchange of trade delegations, establishing banking channels, holding trade exhibitions and addressing tariff and non-tariff barriers. They further resolved to conclude the FTA on priority.

The two foreign ministers underlined that the two brotherly neighbouring countries would deepen connectivity between the two sister ports of Gawadar and Chahbahar to benefit from their complementarities.

Pakistan and Iran strongly condemned terrorism in all its forms and manifestations and appreciated increased cooperation in border security. To facilitate movement of people and goods across the border, it was agreed to expedite operationalization of the two new border crossings.

The foreign ministers also exchanged views on important developments on regional and international peace and security. They supported political resolution of the Afghan conflict for durable peace and stability in Afghanistan, and the region.

Expressing concerns over growing presence of Da'esh in Afghanistan and its implications for the regional security, the two sides underlined the need for further cooperation against all trans-national terrorist groups.

Pakistan and Iran reiterated support for the peaceful struggle of the peoples of Palestine and Kashmir for their right to self-determination. The two countries also emphasised the need to honour the JCPOA commitments by all parties.


COMMENTS
Comments are moderated and generally will be posted if they are on-topic and not abusive.
For more information, please see our Comments FAQ