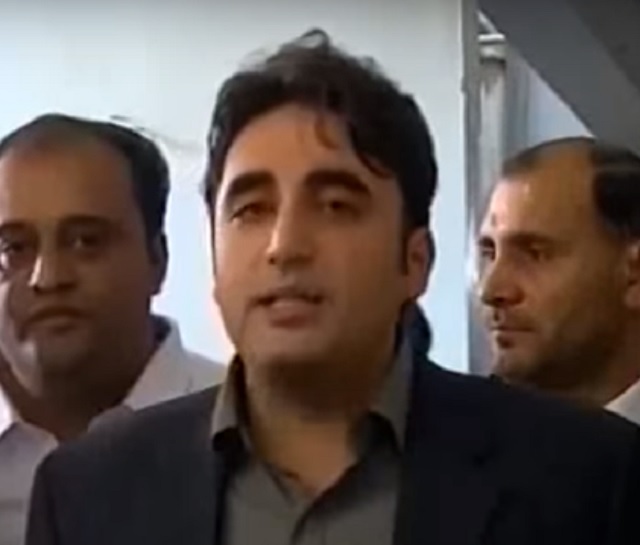 ---
Pakistan Peoples Party (PPP) Chairman Bilawal Bhutto-Zardari has once again challenged Pakistan Tehreek-e-Insaf (PTI) chief Imran Khan to contest the upcoming general election from a Karachi constituency against him.

Speaking to reporters in Karachi on Wednesday, he said the residents of the city would not support those who facilitate terrorists and give an exemplary defeat to the 'terrorist party', Express News reported.

"As I've done before, I challenge Imran Khan to contest elections from Karachi. Please come to Karachi and contest election… people of this city will give you an exemplary defeat… we reject facilitators of terrorists," he said.

The PPP chairman said that Imran's politics was the 'politics of hatred' and "we don't want another Altaf Hussain."

Bilawal reiterated his mother's words that "democracy is the best revenge" and vowed to avenge the sacrifices of all the martyred party workers by inflicting an exemplary defeat to the 'terrorist party' from across Karachi.

He said the party will bring back Karachi's lost lights if elected to power in the upcoming national elections.

PPP to have its chairman in Senate, says Bilawal

Commenting over ongoing war of words between deposed prime minister Nawaz Sharif and judges of the superior judiciary, Bilawal said his party did to want institutional clashes. "We don't want this clash as it's not in democracy's favour and it shouldn't happen," he added.

Across the board accountability has always been the PPP's policy, said Bilawal, adding that he had also held a press conference after the Panama Papers verdict in this regard.

However, reforms could only happen if all stakeholders are on board, said the PPP chairman, adding that if the Pakistan Muslim League-Nawaz (PML-N) gets a bill passed in this regard that would undermine parliament.

Dismissing the allegations of horse trading against the party leadership once again, the PPP chairman said, "We negotiate through ideology and not money."

He said the party was in contact with other opposition parties to get its own chairman elected in Senate.