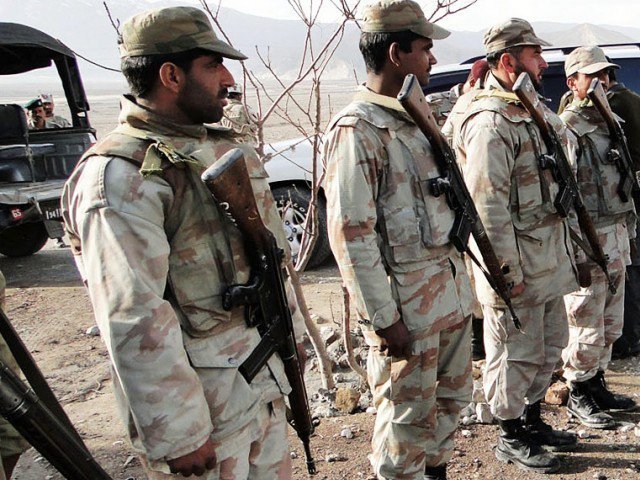 ---
As many as 24 terrorist attacks took place across the country last month with a significant portion of it focusing on security and law enforcement personnel.

This was disclosed in a monthly security report for February 2018 by the Pakistan Institute of Peace Studies (PIPS) released on Tuesday.

The report showed that 24 attacks took place in February which claimed 38 lives and left 46 others injured.

This, however, was down by over 11 per cent from the month before when 49 lives were lost.

Of the 24 attacks, 10, or 42 per cent of the total attacks reported from across Pakistan, targeted personnel of security and law enforcement agencies.

As a consequence, this group made up the majority of victims as well. Of the 38 martyred in terrorist attacks, 13 were army officials, 12 were civilians, eight were Frontier Constabulary (FC) troops and three policemen. At least two militants were also killed during the month.

The report further noted that the highest number of terrorist attacks for any one region of the country was reported from Balochistan where nine attacks had been reported. The attacks claimed the lives of 15 people and left 16 others injured. Of those martyred, 10 were security personnel.

At least three of the attacks in the province were perpetrated by the Tehreek-e-Taliban Pakistan (TTP).

Khyber-Pakhtunkhwa (K-P) was second most afflicted during February with six attacks taking place across the province. These attacks claimed 15 lives – 11 army officials, two civilians, a policeman and a militant. Around 19 others were also injured.

Most of these casualties occurred in an attack on army officials in the Kabal tehsil of Swat, which left 11 officials martyred.

In the Federally Administered Tribal Areas (Fata), at least seven terrorist attacks took place. These attacks, though, were concentrated in only four agencies of the tribal belt.

The attacks claimed the lives of six people, including four civilians and two soldiers while eight were injured.

Published in The Express Tribune, March 7th, 2018.