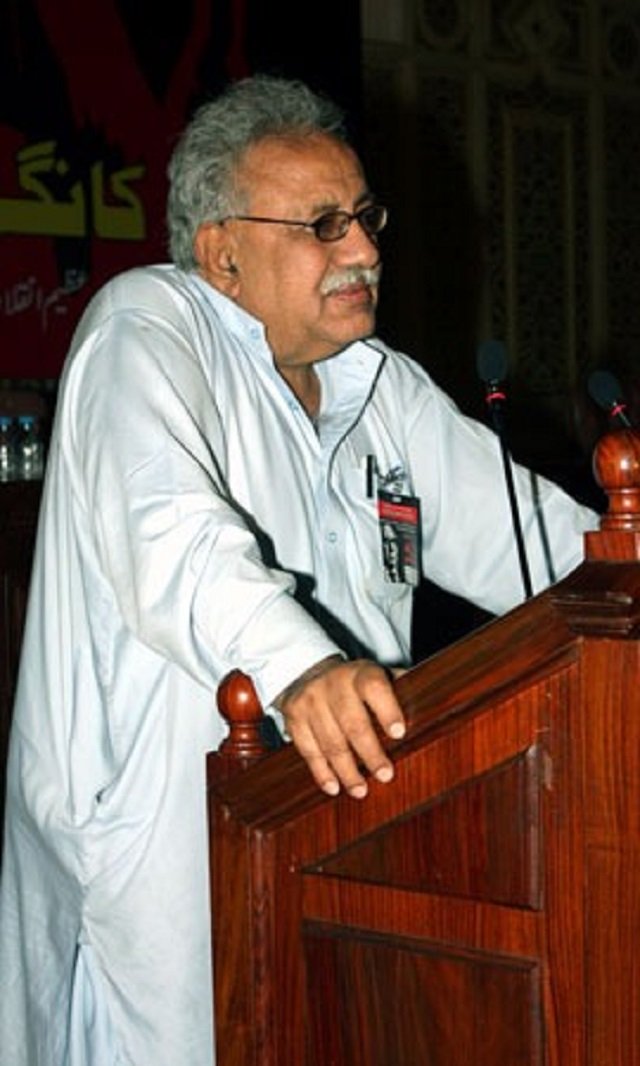 ---
HYDERABAD: There are a few people in Pakistan's history whose names are synonymous with resistance against the martial law regimes of General Ayub Khan and General Ziaul Haq. One of those towering political figures, Muhammad Jam, popularly known as comrade Jam Saqi, breathed his last in Hyderabad on Monday. He was 73 years old.

"A long chapter of struggle for the rights of the working class and poor people has closed with his death," summed up former Sindh advocate-general and senior lawyer Advocate Muhammad Yousuf Laghari, who was a contemporary of Saqi in the political and student movements of the 1960s.

As Saqi's coffin was being carried to his final resting place after the namaz-e-janaza in the Naseem Nagar area, the pall bearers led by his sons chanted a popular communist slogan, 'long live the revolution', to pay tribute to the fallen comrade.

Saqi, who was catapulted to prominence by the Sindh Students Federation, which he headed as its president, was among the heroes of the March 4, 1967, procession against General Ayub's One Unit System.

Led by Advocate Laghari, the March 4 procession of thousands of students started from Sindh University (SU) in Jamshoro and was planned to end in Hyderabad. But the martial regime used its brutal force to stop the protest on its way to Hyderabad, injuring 17 students and arresting over 200.

Saqi entered student politics soon after shifting to Hyderabad from Janjhi village in Chachro taluka of Tharparkar where he was born on October 31, 1944. He had moved to the city to pursue college and higher education after completing his secondary education in his hometown.

Sridevi's death: What went down the night she died

He graduated in 1967 from an affiliated college of SU, the Sachal Arts College, and later obtained a masters degree in political science. This was when he put himself on the map by joining Hyderabad Students Federation, which he also headed as general secretary, and later in the Sindh Students Federation.

Saqi supported or remained associated with several political movements and groups during the first three decades of his activism.

"I remember the days he spent in hunger or when tea and biscuits were the only meal he would have the entire day," Advocate Laghari said referring to the period, longer than a decade, which Saqi spent in imprisonment, starting from General Ayub's to General Zia's regimes and the years of his hiding.

His first wife, Sukhan, committed suicide by jumping in a well in her village after she was falsely informed about her husband's death during imprisonment.




PHOTO: EXPRESS

During one of his hearings in the famous Saqi case in a military court, former prime minister and Pakistan People Party (PPP) chairperson Benazir Bhutto, Awami National Party's Wali Khan and Baloch leader Ghaus Bux Bizenjo appeared in his support. He was released from prison in 1986.

In 1988, he contested the election of the provincial assembly from a constituency in Tharparkar, challenging the candidate of an influential Arbab family, Arbab Ameer Hassan. But he lost to the influence.

Saqi remained associated with the Communist Party of Pakistan as its general secretary till 1991. After parting ways with his ideological party, the leftist leader was persuaded by former Sindh chief minister the late Syed Abdullah Shah to join the PPP. Shah succeeded and made Saqi his adviser for labour. Saqi remained a member, albeit dormant, of the PPP's Sindh Council till his death.

The communist party's secretary-general, Imdad Qazi, paid tribute to Saqi saying that he dedicated his life to the struggle for the rights of the working class, poor and marginalised people. "For us, he was an ideological mentor," he said.

Will the 'death planet' swallow everyone on earth in 2018?

"We used to frequently meet during the days of his hiding," recalled his friend and contemporary, Arif Pasha. "When the PPP was removing the word socialism from its manifesto, he resisted the move," recalled Dr Eshwar Kumar, a psychiatrist and political protege of Saqi.

The Sindhi Adabi Sangat announced two days of mourning in honour of Saqi.

Saqi, who was laid to rest in Baban Shah graveyard in the GOR Colony area in Hyderabad, is survived by his second wife, three sons and three daughters. Seven books, including a work of fiction, are associated with the communist leader.

Many noted people eulogised Saqi on Twitter.


History in chains.Jam Saqi and Benazir Bhutto sahiba facing a military court established by Gen Zia.U can see chains on the shoulders of Jam Saqi these chains became necklace of our political history we will always remember the chain holder pic.twitter.com/pcRKiw5t5W

— Hamid Mir حامد میر (@HamidMirPAK) March 5, 2018
#JamSaqi a true leftist, A worker of Pakistan Peoples Party has left this world for eternity..
His services for the democracy and democratic system will always be remembered#RIPJamSaqi pic.twitter.com/5KBSFtWlTo

— Sen Aajiz Dhamrah (@AajizDhamrah) March 5, 2018
Comrade #JamSaqi passed away. #RIPJamSaqi pic.twitter.com/UAEA1vU26K

— Umair Solangi (@UmairSolangiPK) March 5, 2018
Veteran left-wing activist, former secretary general Communist Party of Pakistan #CPP and hero of 4th March struggle (March 4, 1967, against One Unit) Comrade Jam Saqi passes away today. Rest in Peace #ComradeJamSaqi pic.twitter.com/Im2mUmiIS5

— Amar Guriro (@amarguriro) March 5, 2018
COMMENTS (1)
Comments are moderated and generally will be posted if they are on-topic and not abusive.
For more information, please see our Comments FAQ