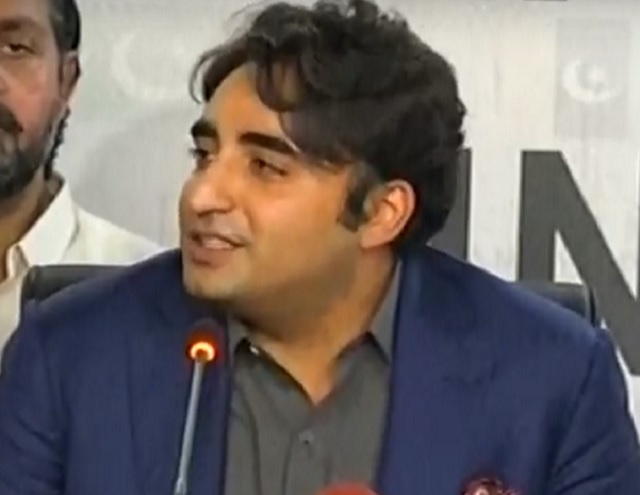 ---
A day after securing 12 of the 52 Senate seats, Pakistan Peoples Party (PPP) Chairman Bilawal Bhutto Zardari said on Sunday that his party was in contact with all opposition parties to elect its chairman in the upper house of parliament.

"We will try to elect our Senate chairman with the support of other opposition parties," he said while addressing a short news conference in Karachi, adding, however, no contacts have yet been made with the ruling Pakistan Muslim League-Nawaz (PML-N) in this regard.

Responding to a query, Bilawal said the PML-N should bring its chairman if it had the majority in the Senate. "However, the candidates the PML-N has claimed to be theirs are independents, and therefore, the PPP has the largest representation in the Senate," he added.

PML-N bags lion's share in Senate polls

Amid allegations of horse-trading, the Senate election for half of its seats on March 3 concluded with the ruling PML-N – whose candidates had to contest the polls as independents after the Supreme Court's February 21 order – taking the lead with a total of 15 seats.

The PPP, the second largest party in the National Assembly, however, exceeded expectations -- particularly in Khyber-Pakhtunkhwa and Sindh -- by securing a total of 12 seats.

The PTI, which managed to win six seats, had to face disappointment in K-P where it got one seat less than its expectations, with the PML-N and the PPP both performing better than their total votes.

Ruling out massive 'horse-trading', a term used for buying allegiance of lawmakers with money, in Saturday's election, specially in Sindh, the PPP chairman said the overall electoral process was free and fair in the province.

The Election Commission of Pakistan (ECP) has also declared the Sindh Assembly's Senate election as most transparent, he added.

"These are mere allegations on PPP. They are trying to cover up their own weakness by hurling allegations of horse-trading on PPP," he said when asked if his party took advantage of infighting within the Muttahida Qaumi Movement-Pakistan (MQM-P) and 'bought' some of its MPAs.

PPP will fall in its own trap set for Senate victory: Farooq Sattar

He said the MQM-P was 'finished' after Saturday's polls.

"When the MQM-P announced a day earlier that they stand united, then how  the PPP can be blamed for buying their lawmakers … Instead of pointing fingers at others they should address their own problems first."

Ruling out reports of his party being behind the conspiracy to oust the previous Balochistan government, Bilawal said the PPP and its leadership was used to listening to similar criticism against it in the past.

"Balochistan senators have decided to remain independent and we will also talk to them to support us in the election to the Senate chairman," he added.

Responding to the allegations hurled by PTI Chairman Imran Khan, Bilawal urged him to bring ideological candidates rather than 'ATMs', in an apparent reference to Jahangir Tareen.

"If you don't vote yourself, then how can you blame others for not voting for you?" he remarked, taking a jibe at Khan, who did not turn up to cast his vote in Saturday's Senate election.

Bilawal said the PPP was the only party focusing on eradicating issues being faced by the masses and vowed to perform even better and try to meet people's expectations if elected to power in the upcoming general elections.
COMMENTS
Comments are moderated and generally will be posted if they are on-topic and not abusive.
For more information, please see our Comments FAQ