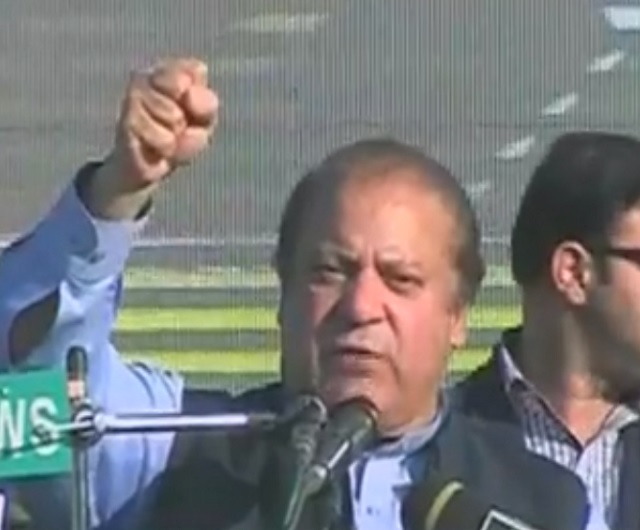 ---
LAHORE: [fbvideo link="https://www.facebook.com/etribune/videos/2230392213644459/"][/fbvideo]

The ousted president of the Pakistan Muslim League- Nawaz (PML-N), and also the country's deposed prime minister, once again launched into a tirade against judges while addressing a large crowd in Gujrat along with his daughter Maryam Nawaz, despite the PML-N newly-elected acting president and his younger brother, Punjab Chief Minister Shehbaz Sharif, attempting to bring down the temperature by showing his utmost respect for the judiciary in his recent media address.

"Millions of people voted me to power but five people desecrated the sanctity of your vote by throwing me out. Do you accept this law of the jungle," Nawaz Sharif asked the crowd that had gathered at Kotla Gujrat – a day after the party bagged victory in the senate election. The crowd emphatically answered an obvious no.

"Do you accept this disrespect and insult," Nawaz asked in a follow-up question to the crowd, referring to the decision of his disqualification. The former premier also asked the people if they would fight along with his party for the respect and sanctity of vote.

PML-N bags lion's share in Senate polls

"Now they were planning to initiate proceedings to keep me out of the [general] elections," he said.

"Hasn't disqualifying me from the party and the government satisfied them?" he remarked.
COMMENTS (6)
Comments are moderated and generally will be posted if they are on-topic and not abusive.
For more information, please see our Comments FAQ