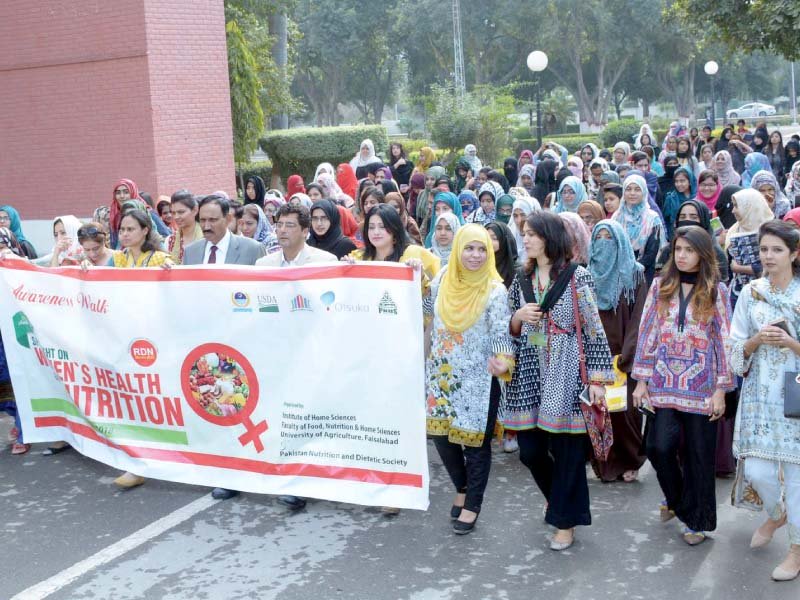 ---
FAISALABAD: Lack of awareness, changing lifestyle and affordability issues are deepening malnutrition crisis at national level.

This was said by University of Agriculture Faisalabad (UAF) Vice-Chancellor Dr Muhammad Iqbal Zafar on Friday. The UAF also organised a walk to create awareness about women health and nutrition issues.

The walk was led by UAF vice-chancellor. It commenced from Iqbal Auditorium and concluded at Administration Block. It was arranged by Institute of Home Science, Faculty of Food, Nutrition, and Home Sciences. Dr Masood Sadiq Butt, Dr Ayesha Riaz, faculty members and scores of students participated in the walk.

Iqbal Zafar said that National Nutrition Survey revealed that the women were facing massive micronutrient deficiencies.

He added, "At least 51% women are anaemic, 47% are suffering from zinc deficiency, 46% from vitamin A deficiency and 68% from vitamin D deficiency." He said that it was a need of the hour to educate public about balanced usage of diet and healthy lifestyle.

Zafar maintained that lack of awareness, changing lifestyle and affordability issues were deepening malnutrition crisis.

Meanwhile, Dr Masood Sadiq Butt said that 50%  of population was facing malnutrition. He called for food fortification to address the issue of malnutrition and food insecurity.

He pointed out that effective measures were needed to educate the people about healthy diet and way of life.

Dr Ayesha Riaz said that they were making all-out efforts to create awareness about women health and malnutrition issue.

Earlier in 2017, while addressing an international food conference at UAF, University of Reading, United Kingdom food expert Gemma Emily Walton said that 50% women and children are malnourished in Pakistan. There is a need to step up efforts to deal with the situation. She added education on malnutrition would pave the way to address the issue.

She was of the view the issue of malnutrition is alarmingly high in the country and should be dealt on war-footing basis.

Published in The Express Tribune, March 3rd, 2018.
COMMENTS
Comments are moderated and generally will be posted if they are on-topic and not abusive.
For more information, please see our Comments FAQ