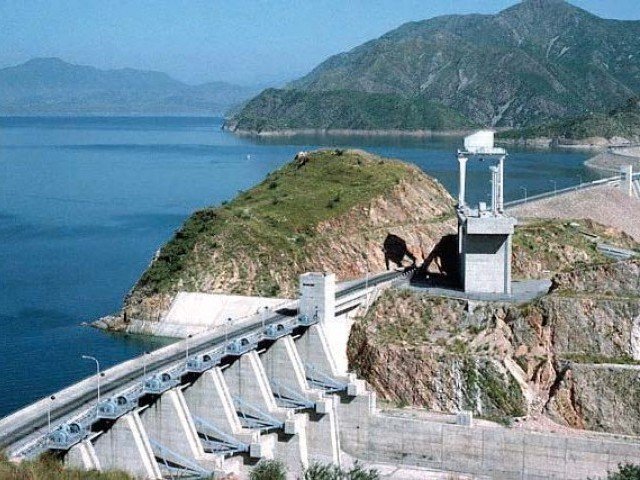 ---
ISLAMABAD: The Indus River System Authority (Irsa) on Friday said that the Tarbela dam had attained its 'dead level' of 1386 feet, and Punjab and Sindh might face shortfall of approximately 70 to 80 per cent in their canal systems in the coming five to ten days.

However, the shortages might be reduced in the wake of impending rainfall and with the increase of temperature being foreseen in catchment areas, says an Irsa press release.

"Today, Tarbela has attained its dead level of 1386 feet; therefore in the next 48 hours, river supplies will be adjusted as under: Punjab will get a share of 4,000 cusecs from River Indus and 14,000 cusecs from Jhelum-Chenab zone; Sindh will gain 14,100 cusecs; Balochistan (4,000 cusecs) and Khyber-Pakhtunkhwa (2,400 cusecs) so a total 38,400 cusecs will be released.

Seasonal shortages for both Punjab and Sindh would remain at 36 per cent as announced by Irsa at the start of the Rabi 2017-18 season.

In a clarification about a meeting of the National Assembly Standing Committee on Water held on February 28, 2018, Irsa said, in addition to other matters, water related issues pertaining to the authority were also discussed threadbare.

In this regard, some section of the press published that the Irsa chairman showed inability to close the Chashma-Jhelum (CJ) Link Canal as well as implementation of the Water Apportionment Accord 1991.

Tarbela 4th extension project starts power production

However, it is clarified that the Irsa Chairman took the stance that any member of Irsa or its chairman alone cannot take any decision in the authority, as all the issues in the authority in respect of the implementation of the Water Accord is settled by the votes of majority as embodied under Chapter II, Clause 8(2) of IRSA Act XXII of 1992.
As such Irsa chairman single-handedly cannot take any decision in the authority.

Irsa was established in regulating and monitoring of water sources of Indus River in accordance with the water accord among the provinces.
Till to date, Irsa is performing its functions vested under IRSA Act XXII of 1992 in true spirit and letter.

Irsa is distributing waters with full consent of the provinces after approval of its advisory committee, comprising all Irsa members, members Water and Power, Wapda, chief engineering adviser, Federal Flood Commission chairman and Irrigation and Agriculture secretaries of all federating units.

Regarding operationalisation of the three-tier formula which comprises para 14(b), para 2 and para 4 of the accord, it is clarified that the formula was derived in 2003 with the consensus of all stakeholders in Irsa advisory committee meeting under the chair of Nasar Ali Rajput, the then member, Irsa, Federal/chairman Irsa who belonged to Sindh.

In the presence of the CCI, discussions at different forums may aggravate the situation and would definitely ignite unrest among the federating units that should be avoided in the best national interact.

Regarding opening of any channel/link, it is clarified that from October 1, 2017 to February 22, 2018, Chashma-Jhelum Link Canal remained closed and Punjab was directed to cater for its Trimmu-Sidhnai and Panjnad Canal systems' requirements from the Mangla Dam.

Pakistan stops bid to include Diamer-Bhasha Dam in CPEC

But when the dam touched its dead level, the availability in the Jhelum-Chenab zone reduced to 12,000 cusecs against Punjab's share of 25,000 cusecs; thus, there was no other source, except Indus to save standing crops of southern Punjab.

Therefore, Irsa decided with majority votes in an authority meeting held on February 22, 2018, to immediately open the CJ Link Canal with a discharge of 4,000 cusecs as long as water is available in the Tarbela Dam.

This season, the provinces of Punjab and Sindh received excessive water with respect to allocations made by Irsa while Balochistan and Khyber-Pakhtunkhwa received less water despite the fact that both the provinces, being smaller, are exempted from sharing of shortages.

Irsa categorically clarified that the authority is implementing the Water Accord 1991 in letter and spirit without any external pressure.
Any province, if aggrieved from any decision of Irsa may approach the Council of Common Interest (CCI).

Irsa emphasised that against the backdrop of climate change, less capacity of Tarbela and Mangla dams to store water, the water availability situation would remain volatile and the country's water economy would remain prone to unexpected flash floods, and sudden droughts.
COMMENTS (1)
Comments are moderated and generally will be posted if they are on-topic and not abusive.
For more information, please see our Comments FAQ