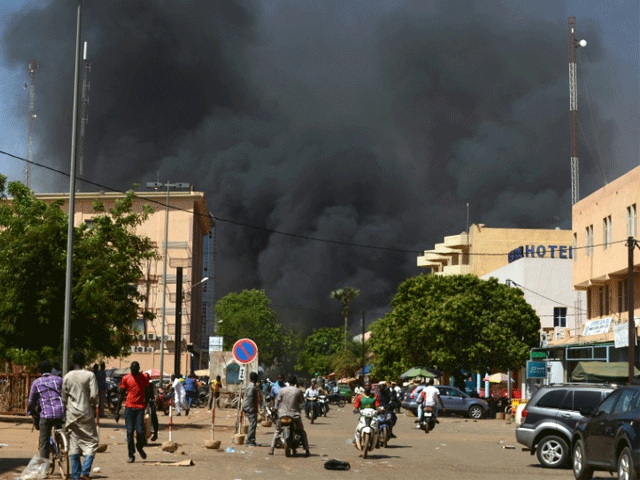 ---
OUAGADOUGOU: A suicide car bombing caused the deadly blast at Burkina Faso's military headquarters on Friday, the government said, adding that a regional anti-terrorism meeting may have been the target.

Eight members of the armed forces were killed by the blast and a parallel attack on the French embassy, while 80 were injured, said Security Minister Clement Sawadogo.

Two French soldiers killed in Mali attack

"The vehicle was packed with explosives" and caused "huge damage", Sawadogo said, adding that it was a "suicide" attack.

Earlier sources had put the overall toll from the two attacks at around 30 dead and at least 85 injured.

The minister said eight attackers had been shot dead.

"At the army headquarters a G5 Sahel meeting was supposed to take place," said Sawadogo.

Man jailed over plot to attack French naval base

Had the venue of that meeting — including officials from Burkina Faso, Chad, Mali, Mauritania and Niger — not been moved to another room "this would have been an extremely serious situation," he added.

"Perhaps it was the target. We do not know at the moment. In any case, the room was literally destroyed by the explosion."

The G5 Sahel nations have launched a joint military force to combat jihadists operating in the region south of the Sahara.

The completed force will be composed of 5,000 troops and aims to be fully operational by the end of the month.

It has already carried out operations against jihadist fighters with help from the French army.
COMMENTS
Comments are moderated and generally will be posted if they are on-topic and not abusive.
For more information, please see our Comments FAQ