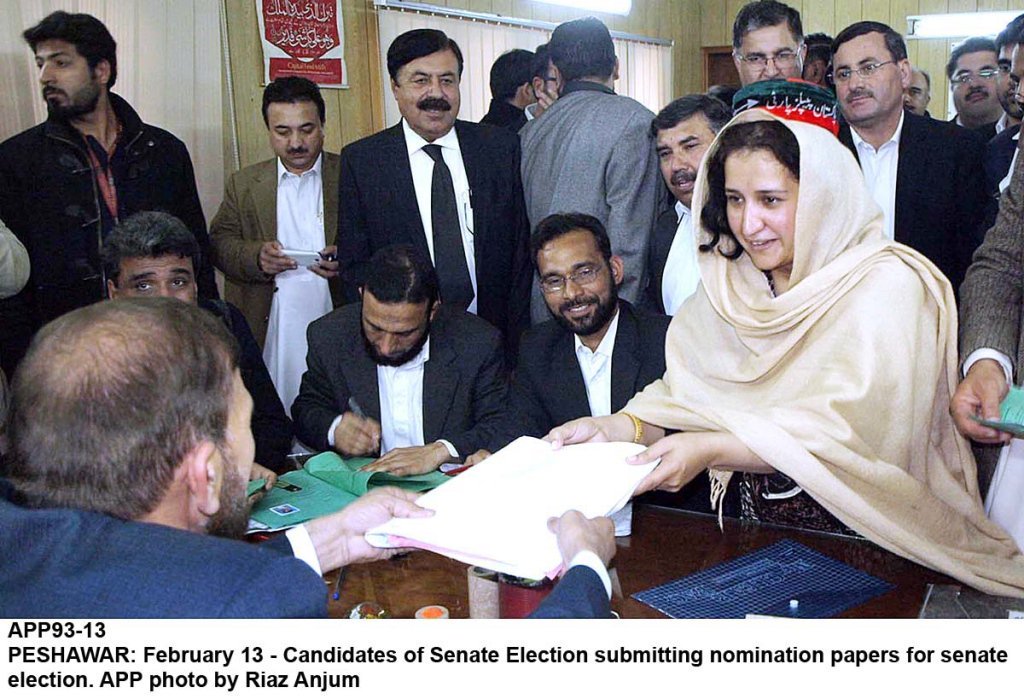 ---
KARACHI: Political bargaining among parliamentary parties for the Senate elections, scheduled for Saturday, on the 12 seats of Sindh has entered its final stages.

It is expected that the Pakistan Peoples Party (PPP) will bag nine seats or more because of the division in Muttahida Qaumi Movement-Pakistan (MQM-P).

Sources from the opposition claim that they have devised a strategy to get one or two candidates to win in the Senate to stop PPP from getting majority of the seats.

The opposition parties are contacting both the factions of the MQM-P in order to form successful strategies. According to an MQM leader, PIB faction and the Bahadurabad group have almost reached an agreement for the Senate elections.

Horse trading: Imran reiterates call for direct Senate elections

Sources claim that PPP has devised the most successful strategy for the Senate elections, and is secretly in-touch with parties including PIB faction, Pakistan Muslim League-Nawaz (PML-N), Pakistan Sarzameen Party (PSP) and others.

The PPP is contacting individual members of various parties to gain their support. It can be speculated that PPP might win nine or more seats because of its strategy. Well-placed sources in PPP stated that members of various parties including factions of MQM have assured the PPP leaders that they will cast votes in their favour.

A member of the Sindh assembly told The Express Tribune on condition of anonymity, that the PPP may succeed in luring many members of the assembly by offering them incentive packages. There is news circulating about deals between PPP and members of assembly from other political parties. Therefore PPP has adopted a mysterious silence on the topic of Senate elections.

The sources further added that the PPP will benefit most from the grouping in the MQM-P. Opposition parties have failed so far to bring a single joint candidate.

PML-N clinches Senate seat vacated by Nehal Hashmi

The MQM-P doesn't seem to be focusing on the Senate elections, they haven't contacted any parties regarding the elections, certain members are still doubtful over whether they will cast their votes or not. They are waiting for policy formation from their leaders.

Sources from the MQM Bahadurabad faction stated that issues with Dr Farooq Sattar had almost settled, but then he took a sudden U-turn. However, efforts are underway to get these differences ironed out.

Khawaja Izharul Hasan, opposition leader in Sindh Assembly and an MQM-P leader confirmed that the two groups of Muttahida have not decided on a conclusive strategy on the Senate elections, however, Sattar and convener of the Rabbita Committee, Khalid Maqbool Siddiqui, were in contact and a strategy was being planned out.

A joint plan of action is expected to be announced in the next 24 hours. Hasan further added that he was in contact with members of the assembly and that everyone will go cast votes in the Sindh Assembly following the party policy.

Pakistan Tehreek-e-Insaf (PTI) leader and member of Sindh Assembly Khurram Sher Zaman accused the PPP of striking secret deals with assembly members of various parties to ensure success. If the opposition parties fail to adopt a joint strategy, PPP will succeed to get the major chunk of the Senate seats from Sindh.

General Secretary of PPP Sindh Waqar Mehdi refuted all claims and said that the party is not striking any deals. He said that the 'loyalties' of members of the Sindh Assembly are not being 'purchased' by 'money or incentives packages'.

PPP has not contacted any party from Sindh and the party is expected to win 11 or all seats of Senate from Sindh. He claimed that PPP will maintain its mandate in the Senate.

Leader of MQM PIB Ali Raza Abidi disclosed that both wings of the MQM have almost reached a joint strategy for Senate elections and that voting will be done accordingly. He further claimed that MQM- P will succeed in winning Senate seats from Sindh through this strategy.

Abidi said that the strategy will be announced after all details have been agreed upon. PSP leader Waseem Aftab said that talks with like-minded parties are underway to adopt a joint strategy for Senate elections. He said that progress will be made soon.
COMMENTS
Comments are moderated and generally will be posted if they are on-topic and not abusive.
For more information, please see our Comments FAQ