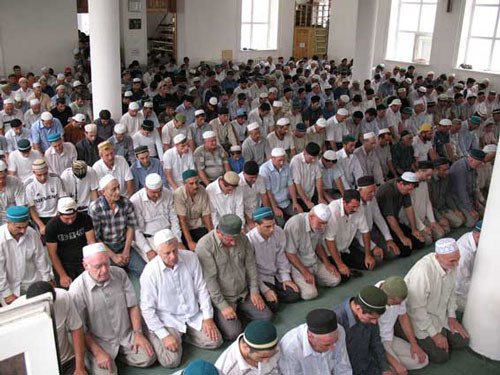 ---
MOSCOW: A rare conflict between religious and political leaders has broken out in Russia's North Caucasus region, with Islamic imams accusing the local government of corruption while authorities install cameras in mosques to monitor sermons.

Tensions in Ingushetia began when local imams claimed politicians were syphoning off funds from construction of a massive Islamic centre.

Such accusations are unusual in a region where strongmen leaders, such as Chechnya's Ramzan Kadyrov, rule with an iron fist and leave little if any room for dissent.

Serving humanity: Sufi teachings key to global peace

The planned project in the city of Magas includes a Muslim cultural centre and a university, as well as a mosque with a capacity of up to 8,000 worshipers, but it has been on hold for nearly two years.

Religious leaders have pledged to hold a rally in Magas at the location of the planned mosque on Saturday, irking the regional government which has banned the gathering.

"The money was diverted, the madrasas are deprived of funding, the imams no longer get salaries," Magomed Khachtyrov, Ingushetia's deputy mufti, told AFP.

He said the government of the majority Muslim Russian republic was putting pressure on the religious leadership due to corruption which "has taken incredible dimensions" and has been criticised by the office of the mufti.

General Yunus-Bek Yevkurov, who has led Ingushetia's government since 2008, has called for tighter oversight of religious sermons, installing cameras in mosques following an attack on one in Nazran in March 2016.

He explained to RBK news agency that surveillance ensures preaching is based on the Quran.

Yevkurov "tries to use new forms of pressure against us," Ingushetia's Mufti Isa Khamkhoyev said in a recent letter from religious leaders to Russian President Vladimir Putin's representative in the Caucasus, Oleg Belaventsev.

The mufti has also denounced what he calls attempts to "confiscate property" belonging to the religious leadership, the closure of its Angusht radio station, and attempting to close down Khamkhoyev's office altogether.

"The discrimination against religious leaders continues," said the mufti, who published the letter to Belaventsev on his Facebook page.
Moscow must take measures against Yevkurov, he said, accusing the regional chief of provoking "discontent" and "aggravating the situation" in Ingushetia.

Yevkurov, who last month ordered local officials to "prevent politicisation of sermons" in the name of stability, has called repeatedly for the dismissal of Khamkhoyev.

"The mosque is a place of worship. Political discourse there is unacceptable... Imams must reinforce people's confidence in the authorities," Yevkurov's spokesperson told AFP.

Election Act case: IHC summons travel records of 6,000 'Ahmadis'

This concern by the authorities has intensified ahead of the Russian presidential election on March 18, but also the September local elections, which entail regional lawmakers voting for the head of the region, said Grigory Shvedov, editor in chief of internet media Caucasus Knot, which focuses on the North Caucasus.

"Ingushetia's imams represent a powerful force," he told AFP. "In the absence of independent media, in a context where criticism of the authorities is rare, the Muslims in the North Caucasus listen to sermons with a lot of attention."

Deputy mufti Khachtyrov, who was at the helm of the Angusht radio station before authorities closed it in late 2015, said imams "cannot only discuss religion in the mosques. We should also discuss what is happening in society".

Placing "political slogans into sermons" is not the issue, he argued. "We simply want the officials to stop taking bribes."
COMMENTS
Comments are moderated and generally will be posted if they are on-topic and not abusive.
For more information, please see our Comments FAQ