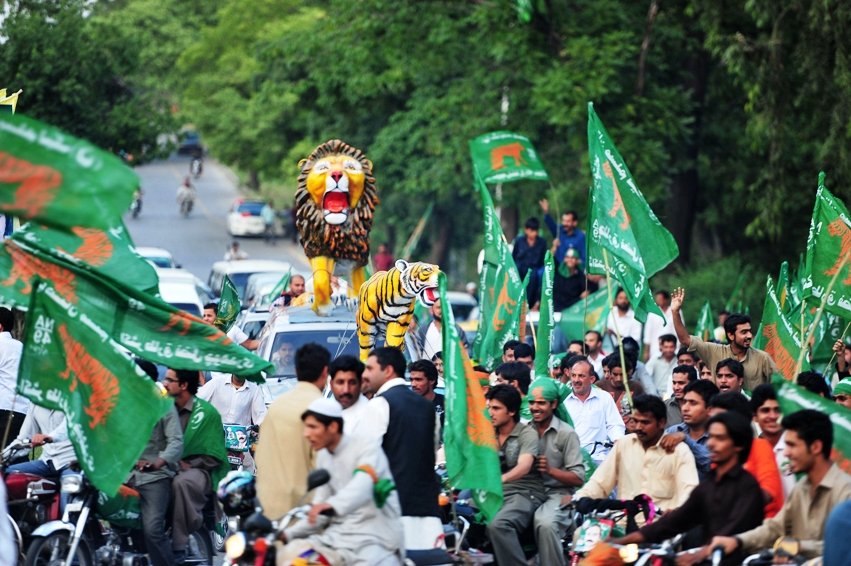 ---
LAHORE: Pakistan Muslim League Nawaz (PML-N) has claimed that legislators who were vying for senate elections as independent candidates would come to the fold of PML-N after March 3, the final round of senate election, as a gesture of "embracing the servitude of former prime minister Nawaz Sharif."

However, on the other hand, PTI contestant Zarqa Suharwardy Taimur criticised the Election Commission of Pakistan, blaming that it has joined hands with PML-N by favouring them to field their independent candidates. She said PTI would challenge ECP's decision of allowing PML-N contestants for senate election.

On Thursday, the polling started at 9:00am which ended at 4:00pm and the PML-N legislators seemed overjoyed over their victory on a by-election for senate seat. Some of the PML-N leaders also used an aggressive tone over the loss of their party's identity in senate polls.




The Punjab Assembly premises resonated with slogans of PML-N's women legislators who mocked the opposition legislators. While no legislators of the opposition party was seen shouting slogans either in favour of their candidate or against the PML-N.

The women legislators of PML-N said still their leader was Nawaz Sharif and no one could expel him from their hearts and mind. Rukhsana Kokab said the courts verdicts could not shake their party they were united with more power than earlier and everyone would see the results either in senate or coming general elections.

PML-N's Waheed Gull also protested inside Assembly premises demanding PTI chief Imran Khan also be disqualified over forged documents of his Bani-Gala residence. He demanded Nawaz Sharif was disqualified under article 62 and 63 of the Constitution but now Imran Khan also be disqualified.

Provincial Law Minster Rana Sanaullah vowed PML-N would not let the dream of those "hidden hands" materialise who wanted to derail the party. "The candidates who are contesting elections will soon come to the fold of PMN-L and will embrace the slavery of Nawaz Sharif," he remarked. "NAB is being used to get 'engineered results' in elections but they will foil the moves."

The premises of the assembly echoed with slogans "daikho daiko kon aya… sher aya sher aya" when Shehbaz Sharif came to cast his vote. A PML-N legislator Muhammad Arif Khan Sindhila, who was on hunger strike after Nawaz Sharif's disqualification, came in an ambulance to cast his vote and ended his hunger strike.

Opposition leader Mian Mehmoodur Rasheed said they would not let the "corrupt mafia" succeed and PTI would continue its efforts till the elimination of corruption. He, however, congratulated the PML-N contestant over his victory, however, in the same breath, he once again lashed out at the chief minister over Faisal Subhan's issue gave confessional statement in China over transferring Rs2 billion in a fake account of a company to benefit Sharif family.

Meanwhile, Shehbaz said the biggest party of the country was ousted and their identity was also snatched from them but even then they would win the election through ballot papers.

Published in The Express Tribune, March 2nd, 2018.
COMMENTS (1)
Comments are moderated and generally will be posted if they are on-topic and not abusive.
For more information, please see our Comments FAQ