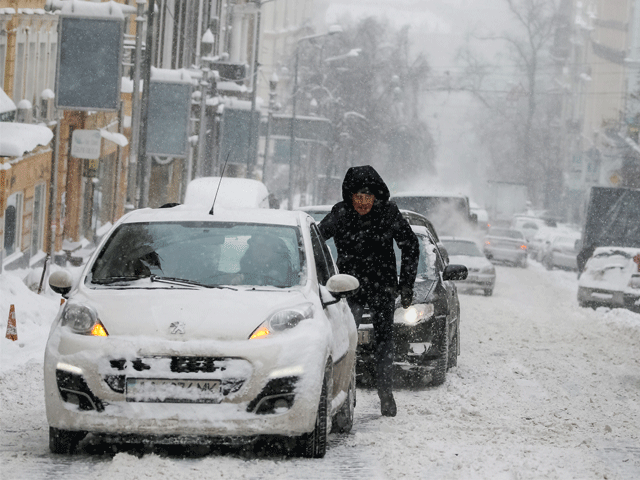 ---
DUBLIN: Snow storms from Siberia blasted Britain and Ireland on Thursday with the worstweather since 1991, trapping several hundred motorists on roadsin Scotland, closing thousands of schools and grounding planes.

With up to 90 cm of snow and temperatures as low as minus 10.3 Celsius in Scotland, Britain and Ireland issued their most severe red warnings which advise people to stay at home as travel is too dangerous.

Hundreds of people were trapped in their cars overnight on the M80 motorway between Glasgow and Edinburgh, flights and trains were cancelled across both Britain and Ireland.

One doctor told that staff were snowed in at a hospital near Glasgow. "We have seen a lot of snow overnight, blizzards and drifting," said Clare Nasir, a meteorologist at Britain's weather services, known as the Met Office.

"Communities have been cut off and roads have been blocked."

London's busiest railway station, Waterloo, showed more than
half of trains cancelled or delay at the height of rush hour.

Southern Railways said an 8 foot (2.5 metres) icicle in a tunnel was delaying services. Funerals were cancelled.

Wholesale gas prices soared to their highest in at least 10 years on Thursday and the British power network regular, the  National Grid, warned of a deficit in the market and sought to buy gas from market players to unblock local bottlenecks.

'Beast from the East' sends Siberian cold blast across Europe

The cold spell, dubbed the "the Beast from the East", has been caused by a jump in temperatures high over the Arctic which has weakened the jet stream that brings warm air in from the Atlantic to Ireland and Britain.

Britain's two busiest airports, Heathrow and Gatwick, both said that flights would be cancelled. Police in Lincolnshire, eastern England, said that all roads were impassable.

More than 150 flights were cancelled at Dublin airport. Britain's Met Office warned that freezing rain was likely across southern England as Storm Emma pushes northwards from Portugal and France.

"Storm Emma is going to push up from the south and that will bring heavy snow to parts of the southwest of England in particular where we are likely to see major disruption," Alex Burkill, a meteorologist at Britain's weather service said.

Ireland was bracing for the biggest snow fall since 1982 with public transport halted and schools across the republic closed.

The head of Ireland's National Emergency Coordination Group said that it would be "suicidal" to go driving in the areas affected by Storm Emma.