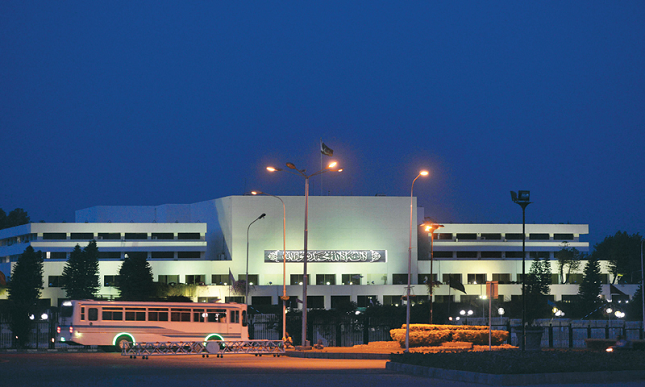 ---
LAHORE: An independent candidate of the Pakistan Muslim League-Nawaz (PML-N) has clinched victory in the by-election on a Senate seat vacated after the Supreme Court disqualified the ruling party's Nehal Hashmi over contempt charges.

The by-election for the Senate seat from Punjab was held at the Punjab Assembly on Thursday.

PML-N candidate Dr Asad Ashraf grabbed 298 votes while his opponent Zarqa Suharwardy Taimur of Pakistan Tehreek-e-Insaf (PTI) secured only 38 votes. There were a total of 368 voters of which 348 exercised their right to vote. Only 12 votes were declared as invalid from 348.

Eight legislators of the Pakistan Peoples Party did not cast vote for PTI. Only four of a total of eight legislators of Pakistan Muslim League-Quaid cast their votes for PTI, while Chaudhry Moonis Elahi, Dr Afzal and Sardar Mohammad Asif Nakai did not come.

Nehal Hashmi sentenced to one month jail time in contempt of court case

Dr Waseem Akhtar of Jamaat-e-Islami also did not vote for PTI.

There are 30 legislators of PTI in the house; however, PTI said that one independent legislator Ali Salman had joined them recently increasing their strength in the Senate to 31 members.

PTI legislator Mohammad Arif Abbasi, who was the polling agent, also claimed that independent candidates Ahsan Riaz Fatyana and Sardar Nasrullah Khan Dreshak voted for them.


Total members of PMLN in PA: 311

Total Casting of PMLN: 310

Valid Votes of PMLN: 298

Cancellations/invalid votes: 12

— Maryam Nawaz Sharif (@MaryamNSharif) March 1, 2018


"What did you get by taking away the party's name and identity," Maryam said in a separate tweet.


الحمدُ للّٰہ مسلم لیگ ن کے ہر ممبر نے پارٹی کو ووٹ دیا۔ کیا ملا آپ کو جماعت کا نام اور نشان چھین کر،سوائےناکامی بدنامی و ادارے کی رسوائی کے؟ pic.twitter.com/Q2u5W5G9dz

— Maryam Nawaz Sharif (@MaryamNSharif) March 1, 2018


However, PTI's Abbasi said ministers influenced legislators by taking them into the polling booth which is a sheer violation of the ECP rules.

He also blamed a PML-N legislator for carrying a mobile phone inside.

They demanded strict action against the violators.

After the results were announced, opposition leader Mian Mehmoodur Rasheed congratulated the winner. However, he vowed their fight against corrupt elements would continue till their total elimination.

SC begins getting tough on anti-judiciary venom

Provincial Law Minster Rana Sanaullah said the ballot papers had given the verdict and the same would be seen on March 3 - the final round of Senate elections. He said those who wanted to derail PML-N would be taught a lesson on the said date.