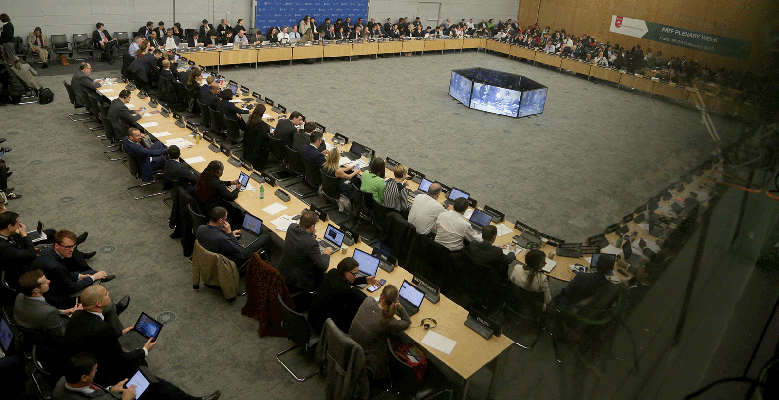 ---
What does an ostrich do when it feels threatened? It hides its head underground! The ostrich feels that by not looking at it, the threat will go away.

It was no surprise then to see Pakistani ostriches — locally known as policymakers — bury their heads underground as they waited for the shrill threat of being grey-listed by the FATF to pass them by.

In the aftermath of this FATF grey-list fiasco, our government has once more cemented the fact that Pakistan has become a case study in how not to run a country's fiscal, internal and foreign policy.

Once again, we watched as our policymakers instead of coming up with a solution themselves, looked towards China, Saudi Arabia and Turkey to help in extinguishing the fire, which such a placement signalled in the international arena. Our " allies" kindly obliged, only for our not so prudent foreign minister, interior minister and adviser on finance to tweet away that support and help by breaking confidentiality of closed-door meetings.

Pakistan has previously been placed on the FATF watch list from 2012 to 2015. This was due to its failure to pass the Anti-Money Laundering and Countering Financing of Terrorism Act. In 2015, Pakistan passed the law and was removed from the FATF list. However, no serious action was taken against those groups and individuals designated as terrorists by the UN. This meant there was no catching or curtailing of UN-designated terrorists and financing entities (even if Pakistan had reservations) like Lashkar-e-Taiba (LeT), Jaish-e- Mohammed (JeM), Hafiz Saeed and associated financial 'charities'. The half-hearted measures taken were again an invitation for the FATF to put Pakistan on the watch list.

Over half a century of blundering has come home to roost. A consistent ostrich-like attitude has remained prevalent in policy formulation since 1963 once the US had decided that Pakistan and its worldview were different. The progressively changing international environment for the past 54 years has always been seen in a short-sighted, almost cavalier manner by Pakistan's national security and foreign policymakers. Not good when we have to contend with Trump's USA and how Pakistan is in its cross hairs although it can be argued that it was not any different during Obama's time in office.

In the last week of August 2017, an embarrassing financial shock hit Pakistan's premier Habib Bank Limited's New York branch. The US authorities cited the bank branch for money laundering to a "good guys" list which included identified terrorists, illicit arms dealers, Iranian oil shippers and a money transaction business with Saudi Arabia's private Al Rajhi Bank which had dealings with al Qaeda affiliates. What was truly disturbing was the citing of HBL's failure to adequately identify, as per law, the Saudi bank's politically exposed customers belonging to Pakistan's dynastic ruling family. HBL resultantly had to close its US operations and pay a fine of $225 million (negotiated downwards from an initial $630 million).

The FATF had cautioned Pakistan in February 2017 and again in November 2017 during its International Cooperation Review about its support to LeT, JeM and Jamatud Dawa(JuD). Apparently these notices were also swept under the carpet.

In spite of FATF warnings and even private advice by its 'friends', the statements given by government officials have been nothing short of baffling. One minister retorted by saying that Pakistan had been on the FATF watch list till 2015 and despite that its economy grew. Another stated that Pakistan had taken many steps for checking terror financing and was winning the war against terrorism. Some even interpreted the three-month respite given by the FATF till June as a victory. However, facts on the ground belie these claims.

The armed forces and other law-enforcing agencies have undertaken meaningful kinetic operations. These operations have been very successful but are only one small part of the definitive solution to finish off the existential threat faced by the terrorism scourge. The Anti-Extremism bill is still stuck in the National Assembly because there seems to be a power struggle between the defence and interior ministries as to which should ultimately be in charge of its implementation. The National Action Plan (NAP) made with such fanfare after the Peshawar school massacre in 2014 remains similar to its acronym, "napping". Out of NAP's twenty points unanimously approved by all political parties, only two points relating to military action have been achieved. The rest of the eighteen points which require legislation, governance, financial oversight (exactly what the FATF has caught Pakistan for), madrassa regulation, etc, are all lost in oblivion. The National Counter Terrorism Authority (Nacta) is the fulcrum for Pakistan's anti-terrorism policy. It is also point 4 in NAP. That Nacta remains a mere point in NAP and nothing more.

What the (in) action of our government shows is ineptitude and lack of seriousness with regard to tackling the terrorism issue. Pakistan is a country beset by terrorism of all shades but has yet to agree on a definition of 'terrorism' across all parties.

The government seems to be fighting a war against its own judiciary, financial accountability mechanisms, law enforcement agencies and military, there is little wonder that terrorists (morphed from criminals, thugs and religious zealots) will continue to have a field day. The question really to be asked is, given our internal lack of governance, lack of foreign policy and corruption-ridden fiscal policy, why are our government officials baffled when the rest of the world does not believe our narrative on terrorism?

Jolts like being placed on the FATF's grey list will continue with many more to come especially if we have a financial system only catering for certain groups or families to take the people's national treasury abroad illegally and preachers of religious violence like Khadim Rizvis and Tehreek-e-Labbaik Ya Rasool Allah being mainstreamed and given electoral space.

The consequences that Pakistan faces due to this drift in its fiscal, internal and foreign policies are disastrous to say the least. Pakistan's friends are in a quandary as we continuously place them in awkward situations. China has now to see first whether it can withstand economic pressure on its multi-trillion dollar business in the West.


FATF yet to take decision on putting Pakistan on terror financing watch-list: Indian media


Saudi Arabia has had to be placated by the deployment of our troops, about whose strength and role the defence minister has refused to brief parliament about. Turkey is stuck in Syria and seems to be replaying the history of what happened in Afghanistan when its neighbours helped its people with good intentions.

Postscript: Pakistan's argument of respect and recognition for its sacrifices in the war against terror must be restructured. As it stands, the world does not believe in Pakistan's narrative. Even its closest allies counsel privately on this. It is imperative that the policymakers and public intellectuals in this country realise that if Pakistan does not wrap up or reorient the internal circus that plagues it, then the doors of our allies will also close — CPEC or no CPEC.

Published in The Express Tribune, March 1st, 2018.

Like Opinion & Editorial on Facebook, follow @ETOpEd on Twitter to receive all updates on all our daily pieces.