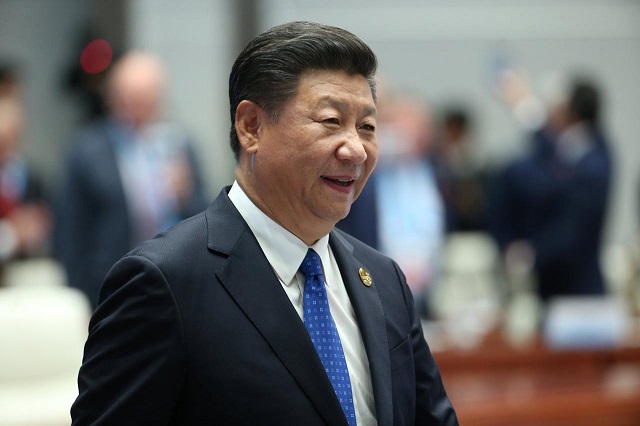 ---
BEIJING: China's plan for President Xi Jinping to remain in office indefinitely has sparked social media opposition, drawing comparisons to North Korea's ruling dynasty and prompting a Hong Kong pro-democracy activist to accuse it of creating a dictator.

The social media reaction late on Sunday quickly saw China swing into a concerted propaganda push by Monday, blocking some articles and publishing pieces praising the party.

CPEC a new economic miracle: China envoy

In Washington, the White House said it was up to China to decide whether to do away with presidential term limits.

The ruling Communist Party on Sunday proposed to remove a constitutional clause limiting presidential service to just two terms in office, meaning Xi, who also heads the party and the military, might never have to retire.

The proposal, which will be passed by delegates loyal to the party at next month's annual meeting of China's largely rubber-stamp parliament, is part of a package of amendments to the country's constitution.

It will also add Xi's political thought to the constitution, already added to the party constitution last year, and set a legal framework for a super anti-corruption superbody, as well as more broadly strengthen the party's tight grip on power.

But it seems the party will have its work cut out trying to convince some in China, where Xi is popular thanks in part to his war on graft, that the move will not end up giving him too much power.

"Argh, we're going to become North Korea," wrote one Weibo user, where the Kim dynasty has ruled since the late 1940s. Kim ll Sung founded North Korea in 1948 and his family has ruled it ever since.

"We're following the example of our neighbour," wrote another user.

The comments were removed late on Sunday after Weibo, China's answer to Twitter, began blocking the search term "two term limit."

In an unusual step amid intense international media attention, China's foreign ministry, which normally only comments on diplomatic matters, said amending the constitution was a matter for the Chinese people.

Since 1954, when the constitution was first adopted, everybody can see that it has been "continuously improved," spokesman Lu Kang told a daily news briefing.

"I hope everyone can acknowledge the voice of all the Chinese people."

White House spokeswoman Sarah Sanders told a regular briefing that President Donald Trump supported having term limits in the United States. But when it came to China, "that's a decision for China to make about what's best for their country," she said.

Earlier on Monday, Trump heaped praise on Xi for his help on North Korea.

"I think that President Xi is unique," Trump said, highlighting his relationship with the Chinese leader, but making no mention of the proposed changes.

"China has really done more probably than they've ever done because of my relationship - we have a very good relationship," Trump said. "We have a very good relationship. But President Xi is for China and I'm for the United States."

Trump has had a complex relationship with China since taking office last year, repeatedly threatening tough action against Beijing over trade and putting the countering of China, as well as Russia, at the center of a new defense strategy announced last month. At the same time, Trump has gone out of his way to praise Xi and stress the importance of their close relationship built up in one-on-one summit meetings.

State Media

China's widely read state-run newspaper, the Global Times, said in an editorial the change did not mean the country's president will stay in office for ever, though it did not offer much explanation.

"Since reform and opening up, China, led by the Communist Party, has successfully resolved and will continue to effectively resolve the issue of party and national leadership replacement in a law-abiding and orderly manner," it said, referring to landmark economic reforms that began four decades ago.

The party's official People's Daily reprinted a long article by Xinhua news agency saying most people supported the constitutional amendments, quoting a variety of people proffering support.

"The broad part of officials and the masses say that they hoped this constitutional reform is passed," it wrote. The WeChat account of the People's Daily, after initially posting a flurry of positive comments under its article, then disabled the comments section completely late on Sunday. It was back again by Monday, complete with remarks lauding the party.

The overseas edition of the same paper's WeChat account removed entirely an article focusing on the term limits, replacing it with the lengthy Xinhua report summing up all the amendment proposals.

In one confusing moment for many Chinese, Xinhua initially only reported the news in English.

Jokes have also circulated on social media. One shows a picture of a condom in its wrapper under the words "doing it twice is not enough".

Others shared pictures of Winnie the Pooh, an internet meme that plays on Xi's supposed likeness to the rotund cartoon bear, an image censors have repeatedly tried to remove.

Parts of the stock market took heart from the news. Chinese speculators pounced on stocks with 'emperor' in their name on Monday. The decision has also unsettled some in the Chinese territory of Hong Kong, where authorities have been trying to rein in a pro-democracy movement.

"This move, which would allow for a single individual to amass and accumulate political power, means that China would again have a dictator as her head of state - Xi Jinping," said Joshua Wong, one of the movement's leaders.

China is likely to see any such criticism as a plot against the party.

"Every time China deliberates on reforms and key decisions, effect on public opinion is worth pondering," the Global Times wrote. "Misinformation and external forces' meddling will affect public opinion in China."

Still, on China's streets, there was some support for Xi staying on.

"I think in our country, nowadays, many policies, such as deepening reforms, need more continuity," said Beijing resident Zhao Yisu, 42. "Particularly in politics, I believe stable leadership is good."

China drowns out critics of lifetime Xi presidency

China's propaganda machine kicked into overdrive Tuesday to defend the Communist Party's move on social media, AFP reported.

The rubber-stamp National People's Congress (NPC) is certain to endorse the move next week, meaning that Xi - already China's most powerful leader in decades - can stay as president beyond 2023.

Li Datong, a former editor at the state-run China Youth Daily, posted a draft letter urging legislators to vote against the move - which would abolish term limits set in 1982 under Deng Xiaoping to prevent a return to the decades of chaos under Mao Zedong.

"It was the highest and most effective legal restriction meant to prevent autocracy or putting individuals above the party and the state," said the letter. It was not sent to legislators but shared with hundreds of people in a private group on China's WeChat phone messaging app.

"Lifting the term limits of national leaders will be ridiculed by civilised nations all over the world and also sow the seeds of chaos for China," said the text posted on Monday.

WeChat users trying to share screenshots of the letter saw their posts blocked.

Censors have scrambled to delete all dissenting comments on social media - even the word 'disagree' is blocked.

"So pathetic, we have 1.3 billion people, no one can resist," wrote one Weibo user.

Another lamented the lack of political reform: "I once believed that I could see a president elected by one man, one vote in my lifetime."

Scores of terms have been blocked, according to a list of dozens of words compiled by US-based internet tracker China Digital Times - including "ascend the throne", "I oppose", and 'lifelong.'

The NPC, at its annual full session starting Monday, will also formally approve a second five-year presidential term for Xi, who is Communist Party chief and head of the armed forces in addition to being head of state.

Legislators will add his eponymous political philosophy to the state constitution.

State media defended the amendment in editorials that lavished praise on the communist party's overall leadership.

The English-language China Daily said the lifting of the presidential term limit "has been necessitated by the need to perfect the Party and the State leadership system."

The party has always proposed amendments that "have injected new ideas and concepts about where the country will go and how it will achieve its goal of rejuvenation and ensure people live happier lives," it said.

The Global Times, a nationalist tabloid, was even more profuse in its praise of the amendment in an editorial entitled "Constitution change responds to new era."

Beijing moot backs talks with Taliban

Since Xi took power, it wrote, "the new ruling team has not just been muddling along under the leadership of General Secretary Xi Jinping. Instead, it quickly started to deepen reforms in a comprehensive and magnificent way."

The newspaper took a shot at the political systems of the United States and Europe.

"It has shaped and affected quite a few Chinese people's mindsets. But some key parts of the Western value system are collapsing. Democracy, which has been explored and practised by Western societies for hundreds of years, is ulcerating," it said.

"China cannot stop and take a break... our country must not be disturbed by the outside world or lose our confidence as the West grows increasingly vigilant toward China."


COMMENTS
Comments are moderated and generally will be posted if they are on-topic and not abusive.
For more information, please see our Comments FAQ