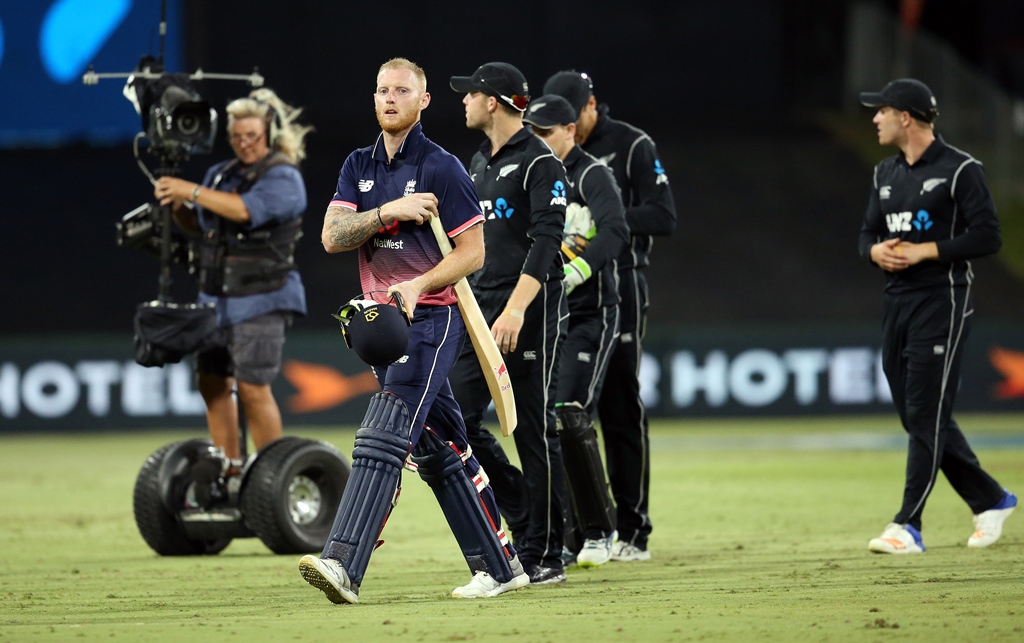 ---
MOUNT MAUNGANUI: All-rounder Ben Stokes set aside his off-field troubles to steer England to a six-wicket win in the second ODI against New Zealand on Wednesday.

The 26-year-old produced a man-of-the-match performance in just his second appearance for England since being sidelined over a nightclub incident five months ago.

Stokes took two wickets for 42 then hit an unbeaten 63 as England easily chased down New Zealand's target of 224 at Mount Maunganui.

"It was good to get a bit of time out in the middle," he said after England levelled the five-match series 1-1. "It's good to get out here and train and implement it in the games to make sure I was out there at the end. Hopefully it's a stepping stone for other games coming up."


Taylor, Santner guide New Zealand home


Stokes only joined England this month after pleading not guilty in a British court to a charge of affray, with the controversy forcing him out of the Australian leg of their tour, including The Ashes.

After England finished on 225 for four in reply to New Zealand's 223 all out, captain Eoin Morgan was full of praise for his star all-rounder.

"Ben's a big character, big in our changing room, he lifts everybody in the side when he performs like he did today," he said. "It's great to see him back in fine form."

Trent Boult made early inroads as New Zealand tried to defend their modest total, dislodging Jason Roy for eight and Joe Root for nine.

Jonny Bairstow made a rapid-fire 37, then Morgan and Stokes dug in for an 88-run partnership that had England at 144 for three after 25 overs.

Morgan notched his first ODI 50 in 11 innings off 48 balls before departing on 62 before Stokes brought up 50 off 54 balls with a six edged over the keeper's head.

Earlier, Black Cap spinner Mitchell Santner scored his maiden limited overs half-century as the New Zealand tail to give the home team's score some respectability.


England include Stokes for New Zealand ODIs


Santner's unbeaten 63 off 52 balls was the highlight of New Zealand's innings, with in-form opener Martin Guptill also scoring 50.

But a superb fielding display from England saw New Zealand bowled out for 223 with two balls remaining.

England pulled off a string of sharply taken catches and ran out four batsman, ensuring that every chance their bowlers created resulted in a wicket.