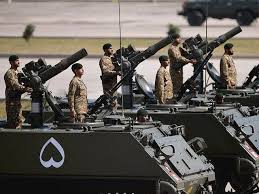 ---
Defence Secretary Lt Gen (retd) Zamirul Hassan on Tuesday said the Ministry of Defence has no reservations about sharing details of the defence budget and spending with the Parliament, Express News reported.

A discussion on the defence budget took place in a meeting of the National Assembly Standing Committee on Defence.

Members of the standing committee raised questions regarding the lack of information available on the defence budget with Parliament.

Heading the meeting, Pakistan Muslim League-Nawaz member and Chairperson Shaikh Rohail Asghar said the Parliament can only access details regarding the defence budget that is enclosed within the Public Sector Development Programme (PSDP).

"Why can we not access the other details?" he asked, to which the defence secretary said the ministry has no reservations about sharing the details.

Pakistan spent Rs297b on terror war in 10 years

"We are ready to share the main points and important information regarding the defence budget," Lt Gen (retd) Hassan said, adding the ministry is ready to share details regarding budget for the air force, navy as well as the army.

The committee members also decried the defence ministry's use of the wrong map of Pakistan, questioning how could the department release a map that did not include Indian Occupied Kashmir, and Gilgit-Baltistan (G-B) as part of the Pakistani territory.

They urged the prime minister to take notice of the matter, and issue "correctly drawn maps" to all the ministries and departments.

In his reply, the defence secretary said the map was updated and has been sent to all ministries and government departments.

Maps showing G-B part of India have PTI in rage

"It is their responsibility now to put up the new maps," he said.

Earlier this year, reports emerged of all internationally recognised maps that were available to students conducting higher research depicted G-B as part of India instead of Pakistan. The matter was brought to the attention of the National Assembly.

The federal government did not consider it as a point of concern, stating it has no control over private organisations that are involved in the map-drawing process.
COMMENTS
Comments are moderated and generally will be posted if they are on-topic and not abusive.
For more information, please see our Comments FAQ