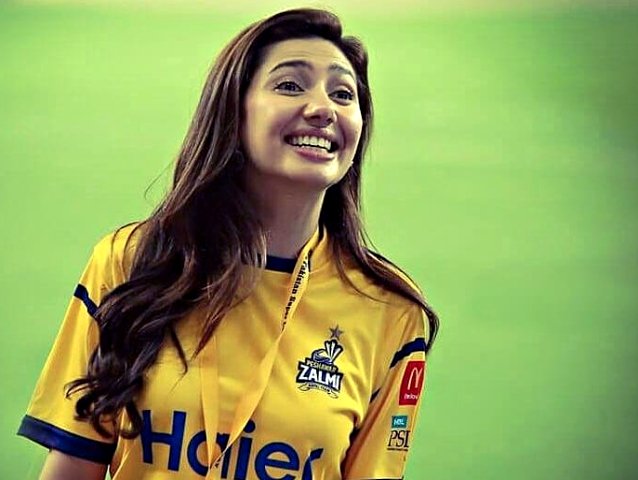 ---
DUBAI: Pakistan Super League T20 tournament is in full swing in Dubai, United Arab Emirates. At the Dubai International Cricket Stadium, Pakistani teams alongside other esteemed international stars and players have come together to play against each other for the third year of the league. As the brand PSL grows bigger and stronger, different teams have brought on mainstream television and movie stars to take on the role of their brand ambassadors.

This year's brand ambassador for Peshawar Zalmi is none other Mahira Khan, who is one of Pakistan's most popular and beloved actors. Mahira tweeted earlier last week that she had joined Peshawar Zalmi as brand ambassador and appeared in Peshawar Zalmi's music video alongside Hamza Ali Abbasi who is also the team's brand ambassador. The music video, where Mahira looks fierce and does a customary Pakhtun dance is shot very much with the team members of Peshawar Zalmi and Hamza Ali Abbasi. The video and the anthem is perhaps the best out of all the anthems this year in PSL.




But the video is not the only exciting part about Zalmi fans, Mahira and Hamza's fandom knows no bounds – be it on social media or in the stadium. Fans and media mobbed Mahira Khan for the chance of interviews and selfies with her. The Express Tribune caught up with Mahira Khan amidst all the excitement and madness of Pakistan Super League 2018 to talk about Peshawar Zalmi, cricket memories and more.

Indians have wronged Mahira Khan: 'Raees' director Rahul Dholakia

How does she like it, this PSL madness, I ask the Verna star. Has she ever been a part of something like this? "Never," she responds looking around with her distinctive childlike candour. "I've never been a part of something like this – the last time I remembered that I was in a stadium when I was in Karachi when I was fifteen years old. We'd packed our bags and we were in a little box. It was all quite exciting."




Is there any déjà vu she feels? "A little," she replies thinking briefly. She shakes her head immediately afterwards and begins to say something else when there is suddenly a huge noise outside the press box, where the match is happening. The audience has gone wild. Has Zalmi scored? "This is something else though," she remarks, perhaps denoting the electric atmosphere. "I love being here, I love rooting for the team."

A lot of people criticised the PSL beginning in Dubai and having most of its matches here. While its final was played in Lahore last year and this year it would be played in Karachi, it continues to garner criticism for being held mostly in Dubai. Does Mahira agree? "It should definitely happen in Pakistan," she nods. "There'll be nothing better than PSL coming home," Mahira says warmly. "Our stadiums getting full. Nothing better than that. If you're asking me if I'd rather have it at home, yes. I would. But in a way, what is happening here in Dubai is amazing too. All cricket lovers from all over the world are coming here and watching this tournament happen. Which is also a great thing, I think."




When we talked about the sense of betrayal Karachiites felt (I simply had to ask) as Mahira, a Karachiite herself, supports Peshawar's team. Did Mahira face any backlash for going to Zalmi's side? When I ask her this, she bursts out laughing. "Absolutely, I've got whatsapp groups going insane." She pushes her hair back and gears up for a suitable explanation for this. "See, for me, if we win, my team wins, if your team wins, it's a win-win situation." She does have a point.

"You know the cool part is though," the Humsafar actor says, "when the match is happening, till the time the match is going on, you're like uurgghh (she makes a little angry warrior gesture) but when it's over, everyone's friends again!"

Mahira Khan and Saba Qamar win big at Masala Awards in Dubai

Mahira Khan is also the brand ambassador of Shaukat Khanum Memorial Cancer Hospital and was recently in Dubai at one of their fundraisers as well. Peshawar Zalmi had flown in some children from the hospital to attend one of the matches. Mahira had not had the chance to interact with them but she speaks just as passionately about them.




"I couldn't get the chance to meet them, by the time I arrived in here, it was too late, otherwise I would have met them because it is one my absolute favourite things to do. To interact with them. And I recommend it to everyone. Next time you're in Lahore, you must visit them. Take your kids. It's a very special place to be."

Mahira Khan will be seen soon in a film opposite Sheheryaar Munawar called Saat Din Muhabbat In and in another film opposite her Zalmi brand ambassador friend, Hamza Ali Abbasi, in Maula Jatt 2.

Have something to add to the story? Share it in the comments below.
COMMENTS
Comments are moderated and generally will be posted if they are on-topic and not abusive.
For more information, please see our Comments FAQ