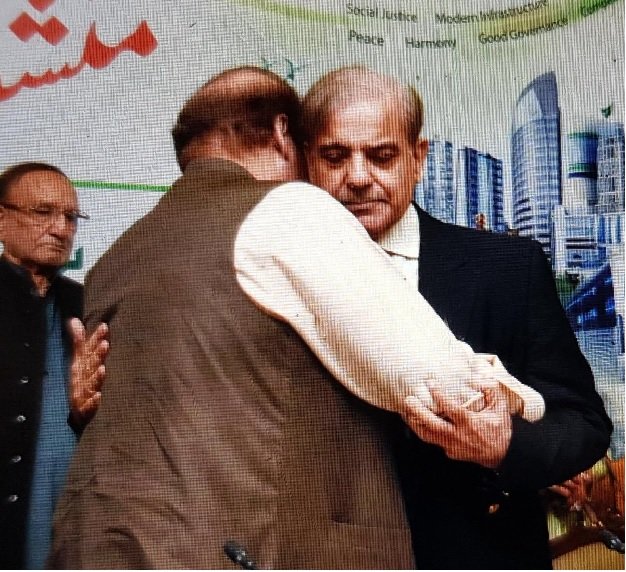 ---
LAHORE: The Central Working Committee (CWC) of the Pakistan Muslim League-Nawaz (PML-N) has appointed Punjab Chief Minister Shehbaz Sharif as acting president of the party, on the recommendation of Nawaz Sharif, the deposed prime minister and former president of the ruling party.

The CWC, which met in Lahore on Tuesday, also passed a resolution proposed by Shehbaz Sharif and PML-N Chairman Raja Zafarul Haq to declare Nawaz Sharif as lifetime 'Quaid' or 'leader' of the party.

Apart from other CWC members, the meeting was also attended by Prime Minister Shahid Khaqan Abbasi, National Assembly Speaker Sardar Ayaz Sadiq and AJK Prime Minister Raja Farooq Haider. However, senior PML-N leader Chaundry Nisar Ali Khan was conspicuous by his absence.


PHOTO: TWITTER

The meeting was called in the wake of the Supreme Court's February 21 verdict which declared that Sharif could not head the PML-N as any person disqualified under Article 62 or 63 of the Constitution is barred from holding the position of 'party head' by whatever name called.

A three-judge bench of the top court, headed by Chief Justice Mian Saqib Nisar and comprising Justice Umar Ata Bandial and Justice Ijaz ul Ahsan, had issued the short order on petitions filed against Sharif's holding of the party position after his disqualification on July 28, 2017 in the Panama Papers case.

The party also decided to pitch Shehbaz for the slot of PML-N's permanent presidency on March 6 during the party's General Council (GC) meeting in Islamabad.

ECP moved to denotify PML-N


PMLN elects Nawaz Sharif as its QUAID for life. Raja Zafarul Haq, PM Abbasi & CM SS proposal elicited a resounding approval from CWC.

— Maryam Nawaz Sharif (@MaryamNSharif) February 27, 2018
نواز شریف ۔ تا حیات قائد پاکستان مسلم لیگ ن منتخب ۔ pic.twitter.com/FptqmICLVs

— Maryam Nawaz Sharif (@MaryamNSharif) February 27, 2018
میں محمد شہباز شریف کا نام بطور قائم مقام صدر مسلم لیگ ن تجویز کرتا ہوں ۔ pic.twitter.com/gc7G1Ft8or

— Maryam Nawaz Sharif (@MaryamNSharif) February 27, 2018
مسلم لیگ ن کے پاس شاندار کارکردگی اور بہت طاقتور بیانیہ ہے۔ انشاءالّلہ فتح ہماری ہے۔ pic.twitter.com/OfpbtobHfE

— Maryam Nawaz Sharif (@MaryamNSharif) February 27, 2018




According to an official handout, Sharif praised the Punjab chief minister's performance and said he wanted to appreciate him for the tremendous development work in the province. He said Shehbaz had shown wonderful performance and it had become his conspicuous identity.

"Lahore appears to be a fully developed metropolis and metro buses are also plying in Multan. Shehbaz Sharif has achieved this status with his remarkable performance," said the deposed PM.

When Shehbaz came towards his seat after the speech, Sharif fondly hugged him and congratulated him. Maryam Nawaz, Sharif's daughter, also came onto the stage and congratulated Shehbaz over his selection.

Talking to the media after the meeting, Federal Minister for Climate Change Mushahidullah Khan said the CWC also granted approval for creating federal and provincial parliamentary boards.

"The CWC has granted approval for creation of media, legal and election cells. It also green-lighted the launch of the PML-N election office at Lahore's 180-H Model Town for general elections," he said.

According to Khan, the fact that Sharif recommended Shehbaz's name could be called into question given the top court's recent court judgment but 'we are prepared for that'.




"Nawaz Sharif's position as a lifetime 'Quaid' is a ceremonial post. All powers have been shifted to Shehbaz for all operational purposes. He is the also the candidate for the party presidency," he added.

Talking to the media immediately after the CWC meeting, Khan said the court's decision to disqualify an elected prime minster was against the hopes and aspirations of the people of this country. "Removing elected representative is not the mandate of the court. It is for the people to decide," he said.

The minister claimed that the decision to make Sharif a lifetime leader was aimed at giving a message.

"It is a fact that the party will run under the leadership of Nawaz Sharif and he does not need any seat or portfolio to run the party. Shehbaz has earlier also worked as party president but even then all the decisions were taken by Nawaz Sharif and this will continue to be the case," he added.

According to a well-placed source, despite the change at official level, Sharif will continue to run the show as a de facto party president whereas Shehbaz will continue to lead in Punjab. "Shehbaz is not just the candidate for permanent party presidency but also for premiership," he added.

He said until the general election, two voices would continue to exist in the party – one airing confrontation with state institutions and the other spreading the message of harmony similar to a 'good cop bad cop' routine.

"Names for the future Punjab chief minister have not been finalised as yet," he added.

For PML-N, Shehbaz is the obvious choice

According to a statement, Shehbaz, after taking charge of the party, called it an important moment in his life and said it was no easy task to control the sentiments

"It is the greatest honour for me that a leader of the stature of Nawaz Sharif has selected me for this post. My heart and mind are asking me again and again whether any person can replace Nawaz Sharif and whether the love which people have showered on him can be shared with any other person? Certainly, it is not possible."

He said the decision of the leader had the backing of PML-N members and political colleagues. "I expressed my gratitude for Nawaz Sharif and am thankful to all my learned colleagues that they have chosen me for this post of national service," he added.

Shehbaz said, "There is another gigantic challenge before the party today."

As the largest political party in the country, it had to play its role to further the political process, he said, adding that it had to ensure that the political process should result in impartial, free and fair elections.

"We shall continue this process of development after winning the elections which is the hallmark of the leadership of Nawaz Sharif. We have to fulfil this struggle aimed at ridding the country of poverty, ignorance and social evils.

"We will have to create opportunities of honourable livelihoods so that our youth could live honourably. We have to continue the journey of bringing improvements in police system with speed to improve law and order and provision of justice to the people at their doorsteps," he said.

Pattoki jalsa

Also addressing a public rally in Pattoki, Shehbaz said Sharif had been deprived of the party presidency but his love could not be removed from the hearts of the people.

"Nawaz will always be the party's Quaid and we shall progress and move further jointly under his leadership," he added.

Continuing his tirade against PTI chief Imran Khan, he said the people of Khyber-Pakhtunkhwa trusted him and brought him to power four and a half years ago, but he ruined the province.

"He wasted precious time of the nation through sit-in and lockdown and promoted a culture of name-calling. Imran boasted of producing 74 megawatt electricity in K-P but where it has gone," he asked.


COMMENTS (2)
Comments are moderated and generally will be posted if they are on-topic and not abusive.
For more information, please see our Comments FAQ