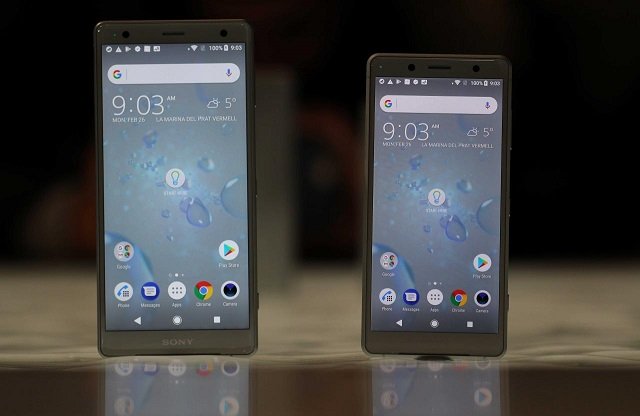 ---
Japan's Sony is turning its focus to 4K high-definition video recording in its new Xperia XZ2 smartphone to differentiate itself from rivals that have caught up in camera technology.

Unwrapped at Barcelona's Mobile World Congress on Monday, the XZ2 features Corning Gorilla Glass 5 on both the front and back and a longer 18:9 ratio display which reduces the size of the bezels on the front of the handset.

It will record video in 4K HDR - a quality previously only available in the top-of-the-range camcorders, senior Sony Mobile product manager Adam Marsh said.

Mobile industry promises smarter everything at Barcelona show

"We have a smartphone about to come to the market that is actually giving you a better movie recording than a very high-end camcorder from Sony," he said.

The device includes super slow-motion in 1080p high definition resolution, he said. Sony introduced super slo-mo in its XZ Premium last year ago, a first that was copied by market leader Samsung in its Galaxy 9 unveiled on Sunday.

Sony's device can also upscale SDR video to near HDR quality video, using technology developed with engineers working on the company's Bravia televisions, he said.

While Sony has won plaudits for technical innovations, its sales have declined and it is adrift of the top-10 vendors. It sold 4 million units in the quarter to end-December, down from 5.1 million a year ago, according to results published earlier this month.

Sony's PS4 has nearly outsold its predecessor

Analyst Ben Wood at CCS Insight said Sony, at last, had a competitive design to match the market leading specifications it had on previous flagship models.

"It will be ruing a missed opportunity in 2017 given it beat rivals such as Samsung by a full year when it comes to features such as super-slow-mo video capture," he said.

"In the end, Sony was held back by a design with an uncompetitively large bezel which was out of step with rival products."

However, he said Sony faced the same up-hill challenge as most smartphone makers in standing out in the market.

"Taking on Apple and Samsung requires eye-watering investment that rivals such as Sony, HTC, LG and others are always going to struggle with," he said.