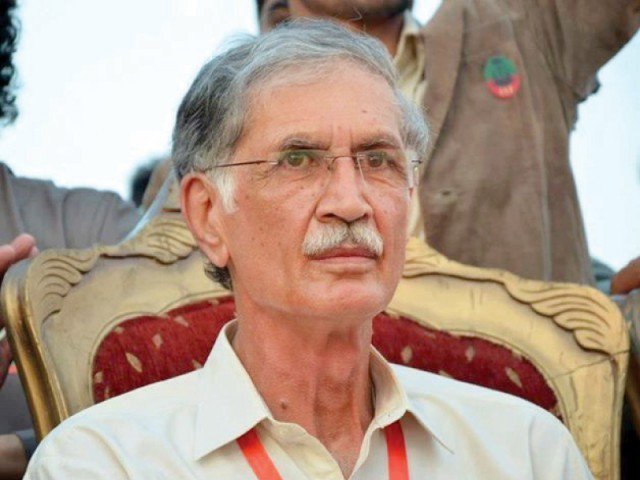 ---
PESHAWAR: Khyber Pakhtunkhwa Chief Minister (CM) Pervez Khattak on Monday said that K-P government is assisting Darul Uloom Haqqania, Akora Khattak, in infrastructure development rather than giving it money.

"We don't have any intentions to give them cash," Khattak said during a meeting with the Pakistan Tehreek-e-Insaf (PTI) chairman Imran Khan who was briefed about the K-P government policy of mainstreaming seminaries, particularly on the funds being given to Darul Uloom Haqqania.

K-P set to release Rs275m more funds to Darul Uloom Haqqania

Khattak added that they are considering to give extension to the main streaming of religious institutions programme.

Imran told the chief minister to provide needed resources to all the seminaries included in the mainstreaming programme.

"The 2.5 million students of the religious seminaries have equal rights over the state resources," the PTI chairman said, adding that "it is high time to give a proper place to seminaries in the education system."

Khan appreciated the K-P government's efforts to mainstream religious seminaries. "In Pakistan, governments are spending money on rich people, while for the poor people and their children the governments have adopted criminal conduct", he said.

K-P government has released Rs300 million for Darul Uloom Haqqania Akora Khattak, Nowshera and the K-P Auqaf Department has sent a summary to the CM for release of another Rs275 million for the construction of academic block in the seminary.

The move triggered criticism on the PTI-led K-P government on social media and in the political circles.

Haqqania seminary seeks university status

The PTI has also joined hands with seminary's patron-in-chief Maulana Samiul Haq, who heads Jamiat Ulema-e Islam-S (JUI-S), for jointly contesting in the upcoming general elections. Samiul Haq, the JUI-S chief, is also contesting for a Senate seat in the technocrats category.

Last week, Pakistan Peoples Party (PPP) Chairman Bilawal Bhutto Zardari took to Twitter to slam the PTI for funding Samiul Haq's madrassa network.


Reports that @ImranKhanPTI PTI government is releasing additional Rs. 27 Crores for Madrassa Haqania owned by Maulana Sami ul haq. The total funds released since 2016 now stand at 57 crores! PTIs Naya Pakistan will be built on the blood of terrorism victims. Shame!

— BilawalBhuttoZardari (@BBhuttoZardari) February 23, 2018