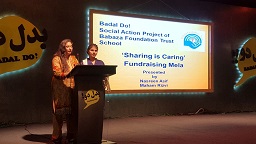 ---
It is high time the education department of the various provincial governments link up with academic reform initiatives in the private sector so that their impact can be multiplied and expanded to cover large sections of teachers and students associated with government-run school systems.

This was stated by former federal information minister Javed Jabbar while delivering the keynote address at the opening ceremony of the two-day 'Badal Do Teachers' Expo' in Karachi on Sunday.

He recommended that the Sindh Education Foundation (SEF), being part of the provincial government's educational set up, should become part of initiatives such as Badal Do where a number of like-minded organisations from the private sector got together to inculcate values of tolerance, cultural diversity, pluralism and civic responsibility among teachers.

Jabbar urged the federal and provincial governments to link the three parallel education systems that continue to produce three different sets of educated Pakistanis.

After Higher Education: 'Students should return to Pakistan'

"These three systems - matriculation, Cambridge, and madrassah education - don't have any interconnection with one another as they represent three different income groups in the Pakistani society," he said.

"There should be an attempt to introduce a broadly singular education system in the country in place of these three lethal divisions in society," he said.

"This kind of three parallel streams of education continues to reinforce negative phenomena of inequity, disparity and lack of cohesion on a massive scale in society," he said, adding that 20 million children were out of school in the country, which accounted for 10% of the country's population.

Jabbar said this was an alarming figure, which posed a daunting challenge for the government to educate all the country's children.

He said that recently, the world renowned UK-based magazine, The Economist, recognised and appreciated educational reforms being observed to improve government-run schooling systems in Pakistan, especially in the provinces of Khyber-Pakhtunkhwa and Punjab.

Punjab's educational reforms

Such appreciation by a well-reputed international magazine showed the promising nature of the Pakistani education system where reforms could bring massive improvements in favour of students and teachers, he said.

Shahnaz Wazir Ali, a former special assistant to the prime minister and ex-chairperson of the Higher Education Commission, appreciated that the Badal Do initiative had rightly targeted school teachers as the most effective agents of change in society.

She said that school teachers should focus on their own cultural diversity and pluralistic nature of Pakistani society and the related values of tolerance and peaceful co-existence among different sections of population as the same set of values should be taught to the students.

She said that there was a need to bring reforms and improvements in the school curriculum to help inculcate such good social values among teachers.

Rank, reward and reforms in K-P education

Journalist Zubeida Mustafa inaugurated an exhibition of photographs taken by the trainee teachers of the Badal Do programme, reflecting their perception of diversity and plurality in the city, where the programme has been piloted.

The audience was informed that Badal Do conducted trainings for over 400 teachers of 204 schools in low and middle income group areas of Karachi to educate them about good social values that would help them to understand and appreciate cultural, linguistic, ethnic, and religious diversity of the Pakistani population and culture.

Important civic responsibilities and good social practices were also taught to the teachers in the training sessions, which were spread over one year.

Alif Ailaan commends Sindh education reforms, laments 'speed with which they take effect'

In the next phase, the Badal Do initiative plans to go for a broader community outreach by engaging the whole school - management, teachers, students, parents, guardians and other community members - through involvement of 5,000 teachers at 300 schools of the city.

The Badal Do team invited not just schools to join, but private sector citizens as well to help assist schools in implementing this programme.
COMMENTS
Comments are moderated and generally will be posted if they are on-topic and not abusive.
For more information, please see our Comments FAQ