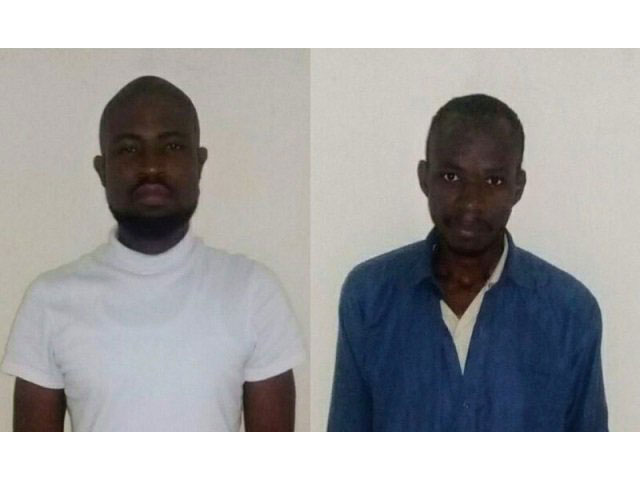 ---
KARACHI: Rangers recovered on Saturday two foreigners from the possession of drug peddlers in Karachi's Defence Area.

The foreigners who belonged to Nigeria and Tanzania are also said be involved in drug business.

According to Rangers spokesperson, the personnel conducted a raid on a tip off that kidnappers had held hostage some people in DHA area.

Subsequently, Rangers recovered Frank Aniehbok of Nigeria and Moses Joseph who hails from Tanzania, and arrested three suspects identified as Wasim Baloch, Naeem Rabbani and Fahad Shabir. Wasim Baloch is believed to be the ring leader of the gang.

The law enforcement agency also claimed to have recovered arms and ammunition from the possession of drug peddlers cum kidnappers.

During the course of investigation, it was revealed that Wasim Baloch worked for Sabir Baloch, the notorious drug smuggler in Panjgur area of Balochistan. The two maintained contacts with international smugglers.

Two women abducted from Karachi's Korangi area

"The bungalow from where the foreigners have been recovered is also owned by Sabir Baloch," Rangers spokesperson added.

Referring to Wasim Baloch's statement, Rangers said that these smugglers had struck a drug deal with a man who lived in Tanzania. Moses Joseph had come to Pakistan in July 2017 as a guarantor till amount of 12 kg crystal was paid.

Baloch who held Joseph hostage because of delay in the payment. Meanwhile, Frank Aniehbok of Nigeria had also visited Karachi to finalise a drug deal.

"This gang is also involved in smuggling of Iranian patrol and weapons," the said and added that one short machine gun (SMG) with a magazine, 19 rounds, one bullet proof jacket and one SMG pouch have also been recovered from their possession.


COMMENTS
Comments are moderated and generally will be posted if they are on-topic and not abusive.
For more information, please see our Comments FAQ