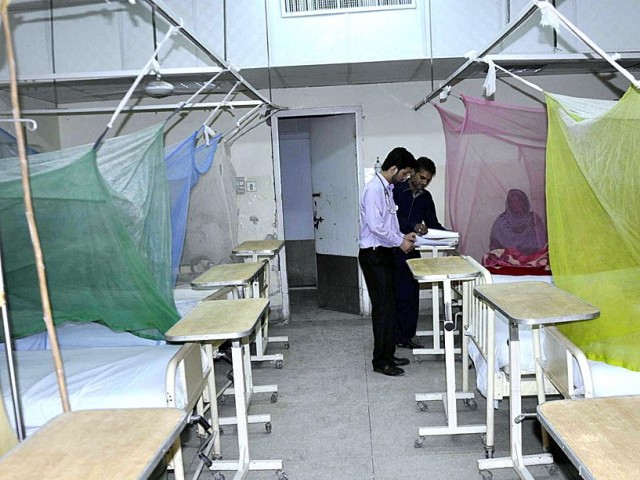 ---
LAHORE: A cabinet committee, presided over by Punjab Minister for Specialised Healthcare and Medical Education (SH&ME) Khawaja Salman Rafique, approved regularisation of contractual dengue staff on Friday.

While presiding over a meeting of the Cabinet Committee on Dengue at the committee room of the Civil Secretariat, the minister said that with the change in weather and increase in the temperature, the dengue season has begun and there was need to take preemptive measures to check the spread of dengue. He directed all the departments concerned to start anti-dengue measures and dengue surveillance activities according to the SOPs.

He said anti-dengue campaign was being run for the last seven or eight years and now there should be no confusion among any department in implementation of standard operating procedures for dengue control. He said all the departments should send their demand of contingency staff to the government so that issue of human resource could be addressed well before time.

Minister Primary and Secondary Health (P&SH) Khawaja Imran Nazir directed the department to send the case to the government for regularisation of anti-dengue staff immediately. Health Director General Dr Akhtar Rasheed Malik, Dengue Control Additional Director General Dr Shahnaz, Lahore Health CEO Dr Yaddullah, Prof Waseem Akram, Public Health Experts, DEAG team, officers from PITB, Special Branch and other departments concerned were also present in the meeting, while the officers of other districts participated through video link.

Dr Shahnaz informed the meeting that one confirmed dengue case from each district of Toba Tek Singh, Multan and Rawalpindi has been reported so far.  Speaking on the occasion, Khawaja Imran Nazir said a vigorous awareness campaign against dengue haf been continued for the last eight years to sensitise people regarding preventive measures against dengue. Therefore, the time has come that people should not wait for dengue surveillance teams to remove the garbage of their houses.

He said people should own their responsibilities to remove stagnant water from their houses, cleanliness and disposing of discarded articles from the rooftops of their houses to check dengue breeding.

Nazir reprimanded the Toba Tek Singh Health CEO on the insufficient steps taken for dengue control and directed him to appear at the minister's office in Lahore on Saturday (today). Minister SH&ME Khawaja Salman Rafique stressed that a strong supervision from the administration of the government hospitals is needed to ensure case reporting and case management of dengue.

He also said the workers of dengue surveillance teams must display their identity card issued by the department while visiting houses.

Published in The Express Tribune, February 24th, 2018.
COMMENTS
Comments are moderated and generally will be posted if they are on-topic and not abusive.
For more information, please see our Comments FAQ