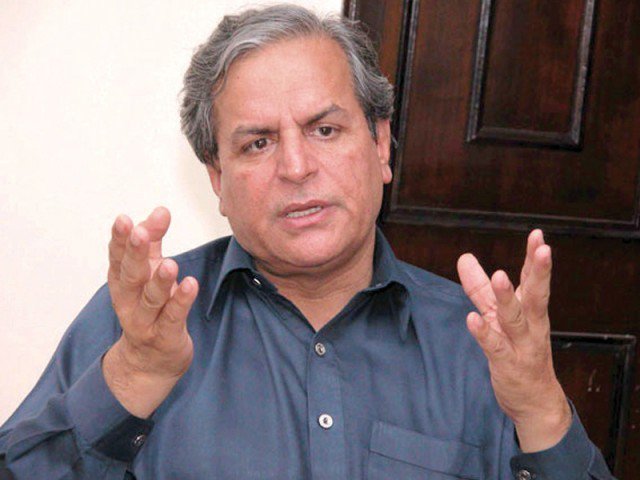 ---
MULTAN: Vetern politician Makhdoom Javed Hashmi declares his support for former prime minister Nawaz Sharif for the protection of the Constitution and democracy.

Addressing a press conference on Friday, Hashmi urged the establishment not to promote Pakistan Tehreek-e-Insaf (PTI) chairman Imran Khan. He said the country could not run until the judges and the generals also accept the supremacy of Constitution.

The former federal minister said that plans were being devised by certain quarters for the formation of a technocrat government after dissolving the assemblies and imprisoning either of the Sharif brothers.  He claimed that his right to comment on Supreme Court decision is protected by the Constitution.

Zardari says Nawaz, PML-N weakening state institutions

Hashmi condemned the PTI for holding celebrations while the country was falling apart. He accused Imran Khan of plotting for the suspension of the parliament. Hashmi revealed that Imran Khan once confided to him about the legislature being dissolved by the Supreme Court through a "conspiracy" devised four years ago.

Responding to a query, he said that only he had resigned from the National Assembly following the PTI core committee decision, while others including the party chairman himself betrayed.

Hashmi lauded Nawaz Sharif's sacrifices for democracy and said that he must take up the responsibility of defending democracy and the Constitution.

When asked if he was in contact with Sharif, Hashmi said that there has been no such communication in the past four years. He also said that he was alone fighting for the Constitution and sacrificed himself in the struggle.

"It is strange that they [judges] can acquit a murder accused over benefit of doubt while disqualifying an elected prime minister on doubt", said the veteran politician. Makhdoom Javed Hashmi predicted that the general election would be held on time.