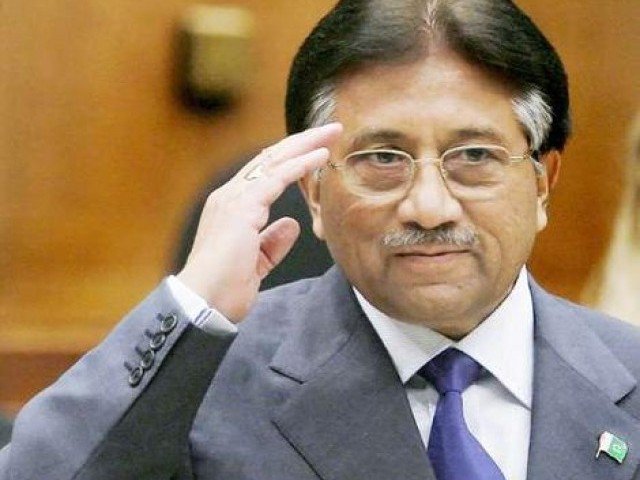 ---
Police officials have declared military ruler General (retd) Pervez Musharraf not guilty in the murder case of Lal Masjid cleric Ghazi Abdur Rasheed, Express News reports.

A sessions court in Islamabad held a hearing into the murder case on Wednesday, with Additional Sessions Judge Islamabad Justice Raja Asif Mehmood presiding over the proceedings.

Earlier, the former president had petitioned the court, seeking the dismissal of the charges against him.

Ghazi murder case: Verdict on Musharraf's plea likely today

Senior Superintendent Police (SSP) Islamabad and Station House Officer (SHO) Aabpara Police Station submitted their replies to court queries regarding the case.

According to the statement filed in the court by police officials, the Lal Masjid operation of 2007 was carried out in accordance with the law and constitution of Pakistan.

"The court can, if it sees fit, grant permission to the people seeking to file a reference against the former president in the case," the statement adds.

Due to a general strike by the lawyers, the court has postponed further proceedings of the case until March 12.

In January, the capital's police have been asked to initiate proceedings to secure red warrants for Musharraf so that he could be brought back to the country to face the courts.

Seeking release: Prisons IG's reply on contempt plea sought

The son of former Lal Masjid cleric Abdur Rasheed Ghazi approached the police with the request to initiate the process of bringing Musharraf back to Pakistan. An application in this regard was submitted to the SHO at Aabpara Police Station.

Rashid, together with his brother Abdul Aziz used to run the Lal Masjid in the capital and the adjoining Jamia Hafsa seminary. However, in 2007, military commandoes stormed it to take on the militants holed up inside. Rashid was killed in the operation.

Lal Masjid cleric's murder: Police urged to secure red warrant against Musharraf

Since September 2, 2013, the Aabpara police had registered a murder case against Musharraf on the directions of the Islamabad High Court. The former president was arrested on October 10 and was granted bail by a sessions judge on November 4, 2013.

Rashid's son, Haroon, had gone to court, accusing the former dictator of murdering his father. But with Musharraf abroad, an Islamabad district court had declared the former strongman a proclaimed offender for his continued failure to appear before the court in the murder case and issued permanent arrest warrants against Musharraf in September 2016.

Musharraf's lawyers, meanwhile, have repeatedly told the court that former military ruler was abroad for medical treatment.
COMMENTS (1)
Comments are moderated and generally will be posted if they are on-topic and not abusive.
For more information, please see our Comments FAQ