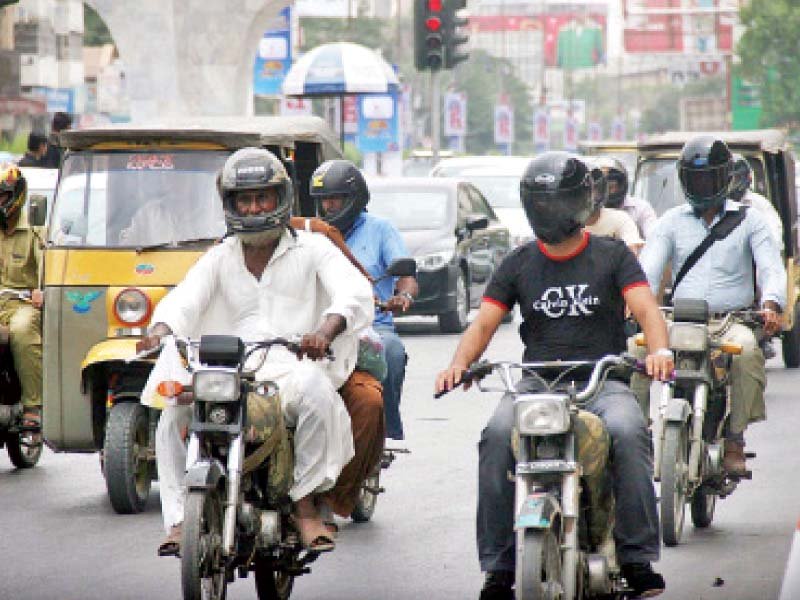 ---
ISLAMABAD: Months after the campaign was launched with great fanfare, the Islamabad Traffic Police (ITP) has silently closed a campaign to enforce the use of helmets by motorbike pillion riders.

Officials conceded that the drive had been shelved after no substantial gain could be achieved.

While the authorities have, to a large extent, been successful in implementing the use of a helmet by motorbike riders, pillion riders in the capital — like the rest of the country —do not bother to wear helmets.

The capital's traffic police had launched the campaign last year in October with the aiming of making it the first city in the country to successfully implement the use of helmets by pillion riders as well.

According to traffic rules, use of helmets is mandatory for everyone who rides a motorbike, but the police have never bothered to implement the regulation.

Hundreds of people are killed in road traffic accidents in the capital every year. Motorbike riders and pedestrians, make up the majority of the victims of road accidents.

Activists had welcomed the campaign when it was first launched.

In the early days of the campaign, the police had fined hundreds of motorbike riders and those riding pillion for violating the helmet rule. Officials could often be seen pulling violators to the side and writing out a ticket to them.

But the action lasted only a few weeks.

"The campaign has been closed," an ITP official said, adding, "I think the effort did contribute to road users' safety. It also created awareness among a limited number of motorbike riders at least."

Other officials said the mindset that pillion riders do not need a helmet, is so deeply entrenched in the society, that it would take huge, consistent efforts and resources to change it.

They said the police department's resources were limited and it was not possible for ITP to sustain the effort beyond a few weeks.

Published in The Express Tribune, February 21st, 2018.