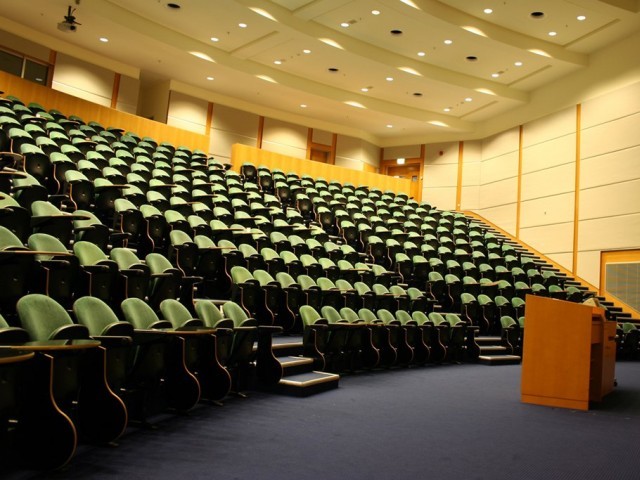 ---
KARACHI: Habib University, Pakistan's first liberal arts and sciences university, partners and collaborates with leading institutions around the world. For this year's flagship Yohsin Lecture, Harvey Mudd College President Dr Maria Klawe spoke to an auditorium full of guests from academia, media, the business community, and students on 'The Importance of a Broad Education: Why does the impact of your work on society matter?'

Dr Klawe is one of the world's leading computer scientists, with significant contributions in several areas of mathematics, theoretical computer science, and human-computer interaction throughout her more than 20-year academic career that included serving as the dean of engineering at Princeton University. Her accolades also include being 17th on Fortune's 2014 List of the World's 50 Greatest Leaders.

Dr Klawe's talk gave examples of success when disciplines are brought together via a transdisciplinary education, of facilitating and building teams, and of enabling unusual success to address complex social issues, including those faced by Pakistan, such as energy or migration.

Habib University students launch anthology, say writing impacts history, society

"Learning is something humans do well as a social activity. The really interesting job opportunities for most people in society are people who can combine human skills and social interactions with actually understanding automation," said Dr Klawe.

In transdisciplinary education, they become creative, problem-solving endeavours. Dr Klawe spoke about the role of teachers in this process.

"When you both frame what you're trying to accomplish and also provide recognition with words for accomplishing those goals, that's what makes it work."

She encouraged educational institutions to think about why we pursue education. "You need to develop the experience of overcoming a challenge. I feel strongly about an error in our society where we equate ease of learning with ability to become the best."

'Karachi is ahead of the rest of Sindh in economic development'

Prior to her steep academic career, Dr Klawe also worked with IBM Research. Throughout her time, she made it her agenda to advocate for and facilitate women working and being recognised in the hard sciences.

As a leading computer scientist herself, she is constantly working for ways to help women and girls in predominantly male-dominated fields and inspired Habib University students.

"It is important for everyone to take on subjects and areas that terrify them at first. When you pick up something that is difficult to tackle, that is when you grow the most. Being male or female in computer science does not matter because employability is high," she said, adding that the applicability of computer science these days is ubiquitous, no matter whether you enjoy painting like her, or music, biology, or development.

Professor gives lecture while holding student's baby

She drew the attention to women hoping to enter the field, telling them of her own experience. "The rule is, you will encounter discrimination and people who don't believe in you all over the place, but you just have to learn from it."

Habib University and Harvey Mudd Collge have held close academic collaborations since 2015. During the current visit to Habib University, Dr Klawe interacted with students, faculty and the board of governors, reflecting, "I am stunned to see such a young institution doing so well. It is a joy to get to know the people at Habib University.

That's what Habib and Harvey Mudd have in common - it's about the people".

Habib University regularly hosts events open to the public to facilitate discourse and promote civic engagement.
COMMENTS
Comments are moderated and generally will be posted if they are on-topic and not abusive.
For more information, please see our Comments FAQ