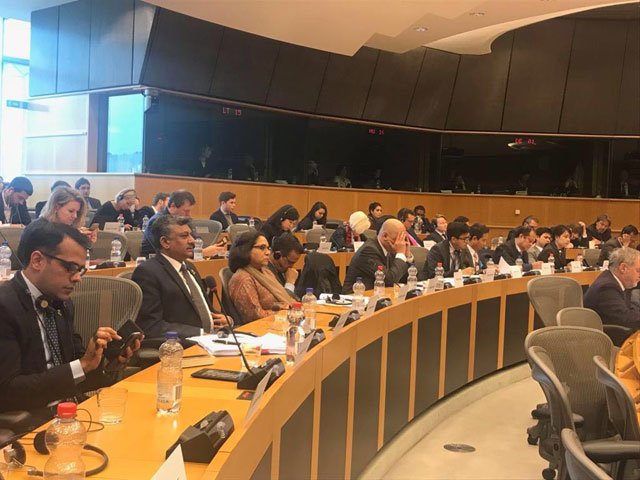 ---
ISLAMABAD: The European Parliament has expressed satisfaction on the progress achieved by Pakistan in enacting new laws and developing new institutions for implementation of 27 core conventions of GSP Plus, according to a press statement released on Tuesday by the Ministry of Commerce.

The statement added that the International Committee on International Trade also agreed to deliberate upon the possibility of up-scaling the relationship with Pakistan from a beneficiary of GSP Plus Scheme to a FTA partner in the future.

The meeting of the International Trade Committee (INTA) of the Parliament, held in Brussels, was called to discuss the 2nd Biennial Assessment Report of GSP Plus, the release stated.

The European Parliament singled out progress on the National Action Plan for Human Rights as impressive and up to the EU's expectations.

"The parliament hoped that Pakistan would continue to engage with the EU and ensure to bridge implementation gaps during the next two years of reporting on GSP Plus," the release said.

Delegation hails GSP Plus as successful

"The Committee on International Trade also agreed to deliberate upon possibility of up-scaling relationship with Pakistan from a beneficiary of GSP Plus Scheme to a FTA partner in future. The process of monitoring of compliance of GSP Plus for next biennial assessment report for 2018-2019 would start in March 2018 by the European Commission."

Secretary Commerce Mohammad Younus Dagha had travelled to Brussels to follow developments with regard to on-going deliberations by the EU Parliament and to undertake necessary engagements with policy makers in European Parliament, European External Action Service and European Commission.

According to the press release, he attended the meeting of EU's Committee on International Trade (INTA) on February 20, 2018 and will also make a presentation to the European Council on Wednesday pertaining to Pakistan's case for retaining GSPPlus.

During the discussions that took place in the meeting of INTA, the committee noted the positive economic impact of the GSPPlus scheme on the beneficiary countries, adding that it has been useful in encouraging countries to undertake necessary steps for promoting principles of good governance and sustainable development.

The section pertaining to Pakistan appreciated legislative and institutional measures undertaken to improve the human rights regime in Pakistan. It specifically appreciated establishment of the National Human Rights Commission and National Action Plan for Human Rights among other measures, the release added.

During the session it was announced that GSPPlus monitoring missions shall undertake visits to Pakistan, Philippines, Kyrgyzstan and Bolivia in the second half of 2018 to interact with stakeholders engaged in implementation of mandatory conventions for GSPPlus.  Pakistan is one of the 10 beneficiaries of EU's GSP Plus Scheme.
COMMENTS
Comments are moderated and generally will be posted if they are on-topic and not abusive.
For more information, please see our Comments FAQ